LendKey at a Glance
Founded a decade ago, LendKey's objective is to revolutionize the lending industry by providing an online lending platform for the thousands of community banks and financial institutions located across the United States. The company offers customers a lending marketplace for student loan refinancing that enables them to create beneficial customized terms for repayment.
LendKey has demonstrated a longstanding commitment to work with smaller regional credit unions and banks to provide more transparency and lower interest rates for customers. In addition to partnering with community banks to broaden their reach, LendKey is constantly striving to improve their technological solutions. Today, LendKey's network includes over 275 community non-profit lenders, helping customers access over $1 billion in financing for more than 60,000 loans.
Suitable for Whom?
Although the company is not directly a lender, LendKey can still help a broad range of customers uncover the student loan refinancing and consolidation options they need. LendKey's marketplace grants customers the opportunity to find refinancing loans for a range of outstanding student loan types. The company prefers to work with customers that have good credit, making them an ideal partner for students who have developed strong credit or have cosigners available to assist with the process.
Moreover, the company's refinancing offerings are excellent for customers who have taken out both private and federal student loans, and are looking to consolidate them into a single, lower-rate payment. Customers with positive financial habits can also benefit considering LendKey's incentives for those individuals who are responsible when it comes to consistent repayment.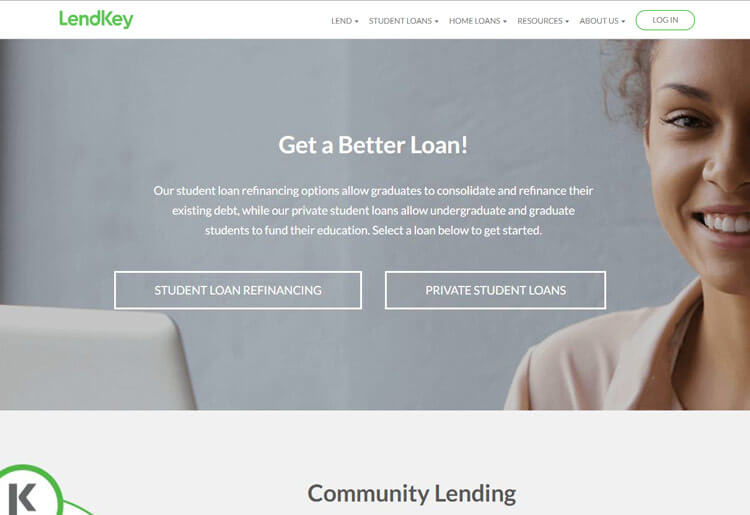 Loan Features
We found several aspects of LendKey's service to be quite useful for students and graduates alike. The company does not directly provide the loan, however it does originate loans and also offer customers freedom when seeking out repayment terms and loan amounts. Customers have the ability to customize their loans and find those lenders that are most likely to meet their requirements, from repayment amounts and terms to amounts and even preferred rates. Apart from these benefits, LendKey partners offer great incentives for customers to lower their interest rates. Borrowers are eligible to receive a 0.25% reduction to their APR when they sign up for AutoPay. In addition, we were happy to see that LendKey allows borrowers to consolidate their loans, both private and federal, into a single lower-rate repayment. The company also hosts several informative educational resources including a downloadable guide to student loans that can help borrowers save sigificant time and money when applying for financing.
Highlights from our LendKey review:
Competitive APRs and interest rates
Consolidate federal and private loans into a single monthly payment
Fast application takes a few minutes to complete
No origination or sign-up fees for loans
Highly rated customer support can answer any questions
Educational resources guide customers through application and borrowing
Lower interest rates quoted by LendKey partners by as much as 0.25% with autopay
Cosigner release after 12 months of on-time principal and interest repayments
The Application Process
Getting started with LendKey is fast and simple - you can see rate options in under 3 minutes and there is no inquiry on your credit report. The company's application process has only three steps, and customers have full control throughout. The first step for applicants is to fill out an initial form to check their eligibility, which generally takes less than five minutes to complete. The form features basic contact information, as well as details regarding a borrowers' university status. Once completed and prequalified, customers will receive a list of potential lenders from which they can select the right match. While specific requirements may vary from lender to lender, LendKey does ask that customers meet the following requirements:
Be a US citizen or permanent resident
Have graduated from a Title IV-certified university
Credit score of 660 or higher (cosigners accepted)
$24,000 minimum annual income
Minimum outstanding loan amount of $5,000
Different lenders may have additional requirements, so customers should always have their documents prepared in advance and confirm with their chosen loan provider that they meet all the relevant criteria.
Once they have received approval, borrowers can customize their loan, finding their preferred repayment terms and amounts, as well as interest rates.
Loan Terms – Essentials
Customers seeking student loan refinancing options on LendKey's marketplace will appreciate the variety of choices they encounter when searching for the right loan and provider to work with. While LendKey is not directly a loan originator, borrowers complete their prequalification application and finalize their selection for loans through their website. Apart from the depth of borrowing options, the company helps customers by waiving many of the charges competitors may include during the refinancing process. LendKey and its partners do not charge borrowers any application, origination, or prepayment fees.
Moreover, the company's network of lenders is not made up of major banks and financial services providers, but rather smaller community banks and credit unions. In real terms, this gives customers access to more favorable rates and better transparency throughout the process of applying and receiving approval for student loan refinancing.
Graduates looking for a refinancing loan can be approved for variable APRs starting at 4.38% (with autopay), or fixed APRs starting at 4.49% w/ autopay. Refinancing also qualifies for automatic payment discounts. Customers can get even steeper discounts on their interest rates by exhibiting responsible financial behavior. LendKey accepts customers looking to refinance undergraduate and graduate loans, originated either privately or through federal programs. The company's partners also offer unemployment protection for a period of 18 months, a high industry water mark, as well as interest-only repayment for up to the first four years of borrowers' terms.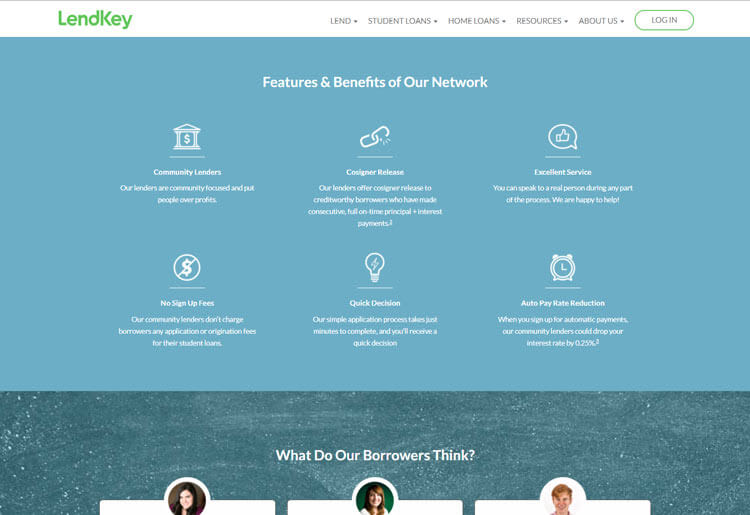 Repayment Terms
Overall, LendKey offers a good variety of loan term options. Refinancing applicants have several choices available, with repayment terms of 5, 7, 10, 15, and 20 years for variable rate loans and 5, 7, 10, and 15 years for fixed rate refinancing options. It's worth noting again that LendKey's highlighted repayment term is the 4 year interest only option on a 15 year loan term, which no other company currently offers. All told, these terms are industry-standard, enabling potential refinancing customers to find the most beneficial term for their needs alongside the most favorable interest rates and repayment amounts.
How Safe is It?
One of the aspects of LendKey's services that we appreciated most was the company's commitment to helping customers from the start to the end of their application and funding process. While the company is not directly a lender, they are different from other refinancing marketplaces thanks to their constant involvement. Customers can rest assured knowing that LendKey will not sell their information to less-than-reputable lenders. Furthermore, the company works with community institutions that are transparent and collaborate with LendKey throughout the refinancing process. The company does collect customer data, but information is stored in secure data centers that feature robust encryption and industry-standard safety measures.
Help & Support
Customers who need to contact LendKey have several channels available to them. Borrowers can contact the company via a toll-free number Monday through Friday between 9:00 AM and 8:00 PM Eastern Standard Time. Additionally, customers can email a company representative with responses usually taking one business day to arrive. Overall, we found the company's support team to be well-versed in student loan refinancing, and able to answer all our questions effectively. For customers who prefer to find answers on their own, LendKey features an informative FAQ section and hosts numerous educational resources that deal with the basics of student loans and refinancing.
Deep Dive into Pros and Cons
LendKey offers an impressive set of features, but we did find some areas where the company could improve to strengthen their offerings:
They are not a lender, but LendKey is still able to guarantee terms on their site as they are the originating and servicing provider
The company's comparison tool could be improved to show more information about other lenders
Setting aside these minor drawbacks, there were several aspects that stood out during our review:
Application requirements do not change for customers from lender to lender
The company offers some of the most affordable interest rates in the student loans refinancing market
LendKey works with customers from start to finish during the loan application and funding process
Borrowers can consolidate private and federal student loans into one more affordable payment
The company's educational resources are informative and easy to access
Partner refinancing offerings exhibit a high degree of customization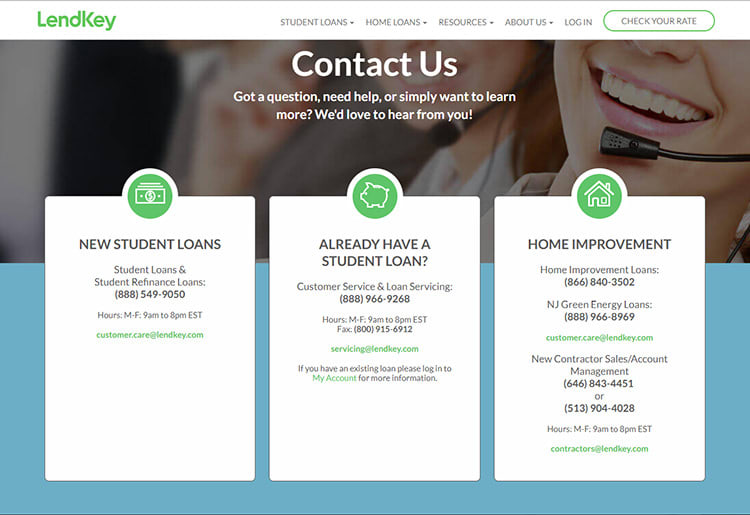 Summary
Overall, LendKey offers an intriguing alternative for student loans. Customers can tailor their loan terms for maximum savings and benefits while the ability to refinance and consolidate both private and federal loans is a notable advantage. We were impressed with LendKey's commitment to working with local and community financial services providers such as credit unions and regional banks. This empowers customers to find lower interest rates and a more transparent financing marketplace than institutional lenders can provide.
We were happy to see that LendKey also emphasizes education and offers resources to customers to better understand the intricacies of student loans and their options when refinancing. This choice reflects a service for graduates with good credit who are looking to take advantage of potential interest rate discounts.
Physical Address
104 W. 27th street
New York, NY
10001