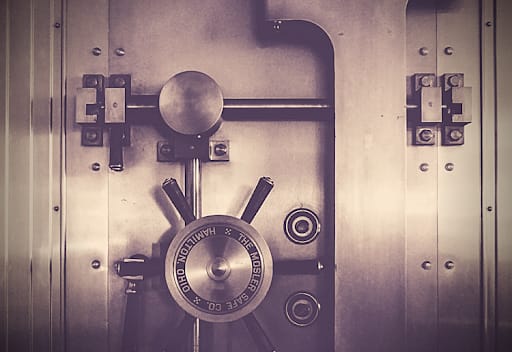 U.S. Bank Visit U.S. Bank
Advantages Over Traditional Banks
U.S. Bank is one of the oldest and biggest banks in the country, so it fits firmly in the category of a "traditional bank". Nevertheless, U.S. Bank has moved with the times and offers an excellent online service and mobile app.
It has four different CD account options, which means that alongside the Standard CD, there are options like the Step Up CD and Trade Up CD, which are unavailable at other banks.
Cutting-Edge Banking Services
U.S. Bank provides a How much can you earn? calculator that shows your projected income with a range of deposit amounts, terms, and CD types.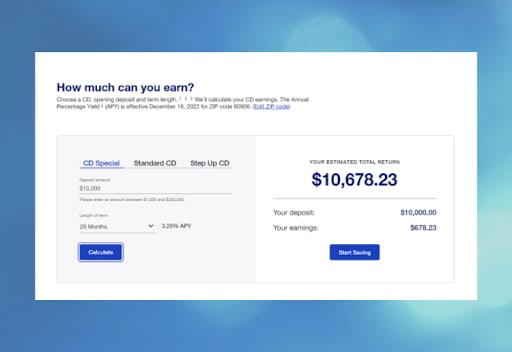 There's also a Mobile App Simulator and an Online Banking Simulator. These are dummy mobile and online accounts where you test out the features and move money in and out. This is a great feature as it lets you preview online and mobile experiences before signing up.
Traditional Banking Services
U.S. Bank offers a range of traditional banking services, including checking and savings accounts, credit cards, mortgages, and investments.
As mentioned, there are different types of CDs to choose from:
CD Special
Standard CD
Step Up CD
Trade Up CD
All CD accounts have a maximum deposit amount of $250,000, although the minimum deposit amount varies. You'll receive all interest payments at the end of your term or annually, whichever comes first. However, any early withdrawals will incur a penalty fee.
CD Special
The CD Special requires a minimum deposit of $1,000, and term lengths are 7, 11, 15, and 19 months. This account offers U.S. Bank's most competitive rates and provides a good return in a relatively short timescale.
Standard CD
At only $500, this account has a lower minimum deposit than U.S. Bank's other CDs. It has term options of one month to five years.
Step Up CD
This CD has a 28-month term, with rate increases every seven months. These rates are locked in, so you'll know what the rate increases will be. The minimum deposit amount is £1,000.
Trade Up CD
With this CD, your interest rate isn't locked in as it is for other CDs. Although you can trade up to a higher APY if rates increase. However, you can only do this once during the term's length. The minimum deposit amount is $1,000.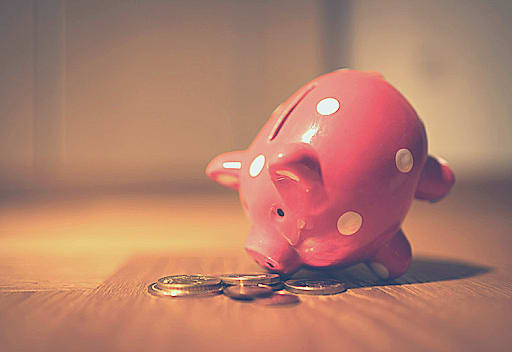 Interest Rates and Fees
U.S. Bank's rates vary by state. APYs listed were obtained in May 2023 for a Colorado Springs zip code.
CD Special
| | |
| --- | --- |
| Term Length (in months) | APY |
| 7 | up to 4.55% |
| 11 | up to 4.65% |
| 15 | up to 4.75% |
| 19 | up to 4.45% |
Standard CD
| | |
| --- | --- |
| Term Length (in months) | APY |
| 1 | 0.05% |
| 2 | 0.05% |
| 3 | 0.05% |
| 6 | 0.05% |
| 9 | 0.05% |
| 12 | 0.05% |
| 18 | 0.05% |
| 24 | 0.05% |
| 36 | 0.10% |
| 48 | 0.15% |
| 60 | 0.25% |
Step Up CD
Term Length (in months)
Interest rate
Blended APY
28

0.05% for first 7 months

0.25% for next 7 months

0.45% for next 7 months

0.65% for last 7 months

0.35%
Trade Up CD
| | |
| --- | --- |
| Term Length (in months) | APY |
| 30 | 0.10% |
| 60 | 0.40% |
There are no start-up or monthly fees for CD accounts. However, penalty fees apply if you want to remove any money before the end of the CD term. Penalties depend on the length of the term but can be up to $25 plus half of the interest that would've been accrued or 3% of the amount withdrawn, whichever is greater.
Customer Service and Online Experience
To start an application for a CD account, you can phone, visit a branch, or book a virtual appointment online. Customer Support is available 24/7 by phone and from 8am to 8pm CT via the online chat service. There are FAQs, articles, and explanatory videos on its website.
U.S. Bank scores badly on Trustpilot with only a 1.5-star rating. However, this score applies to all products and services, not specifically CDs. It has a grade of B+ with the Better Business Bureau (BBB) and has been accredited since 1970.
Mobile App
https://digitalexplorer.usbank.com/content/22/sign-up-for-mobile-banking
The U.S. Bank mobile app is available on iOS and Android devices. You can manage all your accounts in one place, including checking, savings, and CDs. There's a demo version available on the website.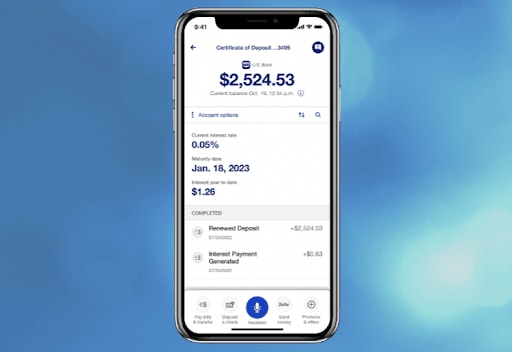 Security
Data is protected by SSL encryption protocols, access control, and secure processes. CDs are covered by FDIC insurance.
Summary
U.S. Bank offers an impressive range of CDs, each with its own advantages and disadvantages. For example, the Standard CD has the most flexible term options, and the CD Special account offers the highest APY, although it's only available for three term lengths. U.S. Bank's customer service team is available 24/7 to help with queries, and all accounts are protected by FDIC insurance.
Methodology
Information was obtained from U.S. Bank's website. Trustpilot and the BBB were also referenced.
U.S. Bank Visit U.S. Bank