Upgrade - Rewards Checking Visit Upgrade
Advantages Over Traditional Banks
The Upgrade Rewards Checking account is completely fee-free and there's no minimum deposit required to open an account. You won't pay monthly account fees, ATM fees, transfer fees, or even overdraft fees.
In addition, the Rewards Checking account offers cash back on every purchase you make using your Visa debit card. You'll receive 2% back on purchases made at convenience stores, drug stores, gas stations, and restaurants. You'll also get 2% back for many monthly subscriptions and utilities.
Upgrade now offers a high yield savings account to customers who already have a checking account. Account holders can earn 3.00% Average Percentage Yield.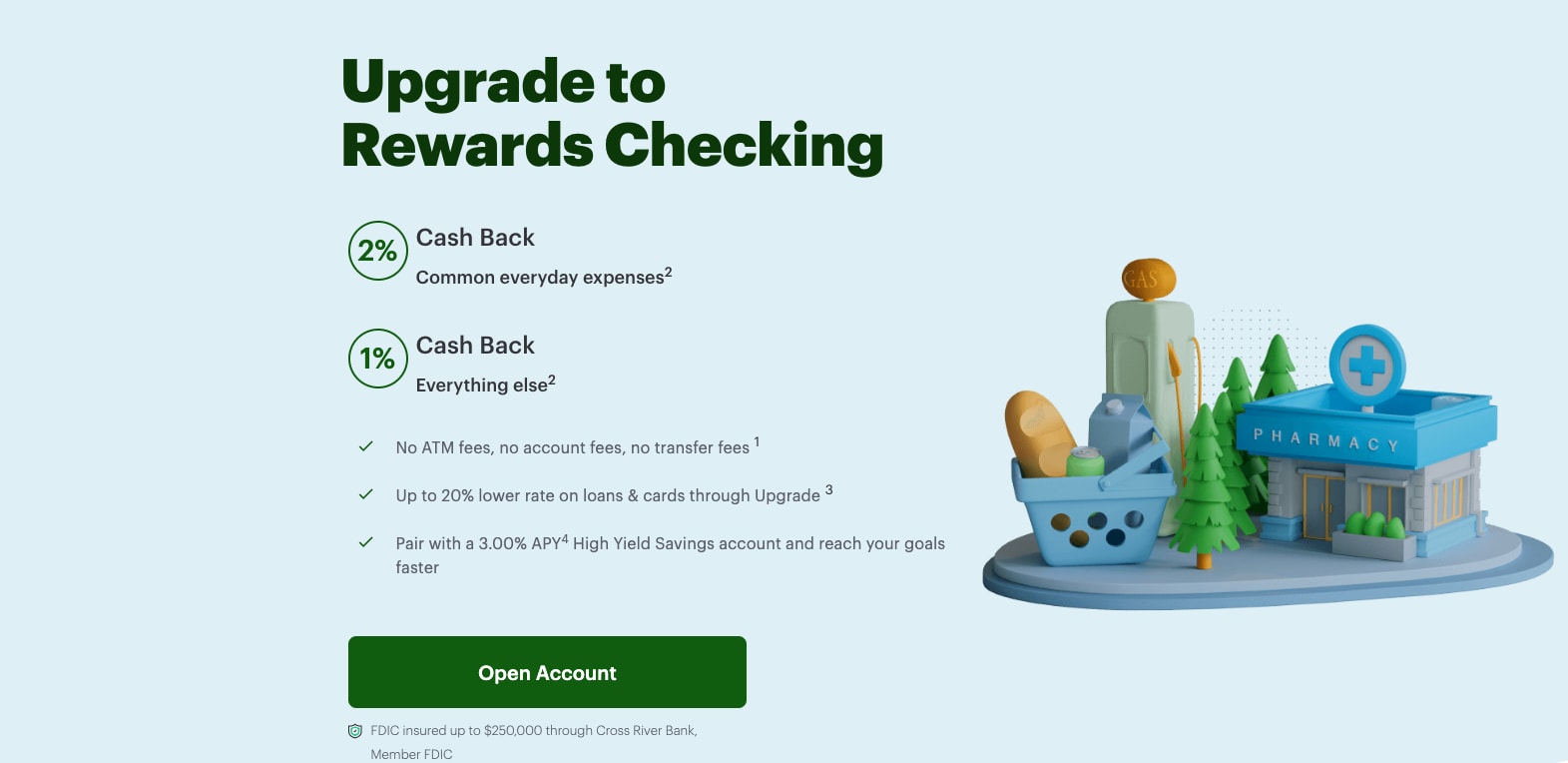 The 2% cash back offer is limited to $500 per year in certain categories, after which you'll receive 1% back. All other purchases also receive 1% cash back.
Another benefit of the Rewards Checking account is that existing account holders can receive up to a 20% discount on the interest rate for a new personal loan or credit card through Upgrade.
Cutting-Edge Banking Services
Upgrade offers a browser-based dashboard as well as mobile apps for iOS and Android to manage your Rewards Checking account. The online dashboard enables you to tag transactions, make fee-free transfers, and automatically pay your bills online. However, it doesn't enable you to integrate accounts from other banks, and there aren't many tools for monitoring your spending over time.
Upgrade also has an online credit monitoring and education center. You can monitor your credit score for free and get weekly updates on any changes. You can also sign up for email alerts to find out if your score is changing and quickly identify potential fraud.
Traditional Banking Services
Upgrade offers personal loans and credit cards in addition to the Rewards Checking account. The company's 4 credit cards are all free of annual fees and offer up to 3% in cash back on select purchases. One credit card offers unlimited 1.5% cash back in Bitcoin on every purchase.
Importantly, Upgrade does not have any physical branches or in-network ATMs. Upgrade does not charge ATM fees, but you may be charged a fee by the bank that owns any ATM you use.
Interest Rates and Fees
Upgrade's Rewards Checking account offers cash back on debit card purchases rather than interest. You'll earn 2% cash back up to $500 per year on convenience store, drug store, gas station, restaurant, subscription, and utilities purchases. You'll earn 1% cash back on all other purchases.
The Rewards Checking account doesn't require a minimum account balance and doesn't charge any monthly fees. There are also no ATM, transfer, or overdraft fees.
| | | | |
| --- | --- | --- | --- |
| Account Fee | Minimum Balance | ATM Fee | Overdraft Fee |
| None | None | None | None |
Customer Service and Online Experience
Upgrade offers customer support by phone and email. You can get in touch from 6AM-6PM (PT) Monday-Friday and from 6AM-5PM Saturday-Sunday. There's also a detailed online knowledge base where you can find out more about how to use your Rewards Checking dashboard and Upgrade's other products.
Upgrade's online dashboard is easy to use. You can see a list of all your transactions and tag them for organization. You can also see your current cash back balance. A bill pay center enables you to set up automatic payments for utilities, credit cards, loans, and other recurring bills.
Upgrade has a 4.7-star rating on Trustpilot, with more than 25,000 reviews, and an A+ rating with the Better Business Bureau.
Mobile App
Upgrade has a free mobile app for iOS and Android devices. The mobile app offers much of the same functionality of the online dashboard, including the ability to track transactions and set up automatic bill pay. You can also lock your debit card if it's ever lost or stolen.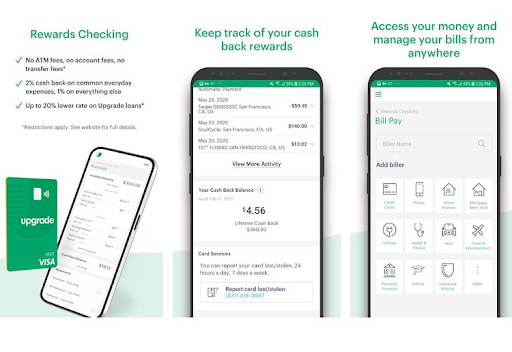 The Upgrade Visa debit card is compatible with both Google Pay and Apple Pay.
Security
Upgrade secures your account with SSL and 256-bit AES encryption. The Rewards Checking account is insured by the FDIC up to $250,000. You can also sign up for credit monitoring and email alerts through Upgrade to quickly detect potential fraud in your account.
Summary
Upgrade is an online bank that offers a checking account, personal loans, and annual fee-free credit cards. The Upgrade Rewards Checking account offers up to 2% cash back on everyday purchases up to $500 per year and 1% cash back on all other purchases. There are no account fees, no ATM fees, and no overdraft fees, and you're not required to keep a minimum balance in your account. You can manage your transactions through an online dashboard or the Upgrade mobile app for iOS and Android.
Methodology
This review was created using information from the Upgrade website, Trustpilot, and the Better Business Bureau.
Upgrade - Rewards Checking Visit Upgrade
Disclaimer
Upgrade is a financial technology company, not a bank. Rewards Checking services provided by Cross River Bank, Member FDIC. Upgrade VISA ® Debit Cards issued by Cross River Bank, Member FDIC, pursuant to a license from Visa U.S.A. Inc.