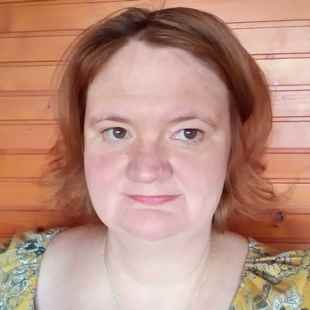 Found summary
Launched in 2019, Found allows freelancers and the self-employed to carry out their business banking, keep track of their bookkeeping, and manage their expenses through a single platform. As well as providing you with a Mastercard debit card for business spending, the company offers tax and invoicing tools, such as automatic invoice generation and the ability to pay taxes via the app.
Pros
No monthly fees
Credit check not required
Excellent security features
Cons
Cash deposits not available
No physical branches
Security
FDIC insured, SSL/AES encryption and supports 2 factor and biometric authentication
5.0
Customer service
Customer service during standard business hours
3.0
Online experience
Excellent user-friendly site with full banking capabilities
5.0
Mobile experience
User-friendly mobile app, no check deposit feature at this time
4.0
Found Visit Found
Advantages Over Traditional Banks
For many freelancers and self-employed people, Found's most significant advantage over more traditional banking services is likely to be its lack of fees, as many of its competitors impose hefty monthly maintenance or account management charges on their small business accounts.
If you're concerned about your financial history, you may be reassured to learn that the company won't run a credit check when you open an account.
Cutting-Edge Banking Services
Several of Found's most innovative features relate to its tax and invoicing services, rather than business banking.
One interesting feature is the company's receipt capture tool, which can help ensure you aren't caught out by lost receipts during tax season. Its automatic expense categorization feature can also dramatically reduce the amount of time you spend getting your accounts in order. You can, for instance, create customized expense categories relevant to your business in areas such as travel costs and office supplies.
The company's array of tax-specific tools is impressive. In addition to the option of paying your taxes directly from the app, you can also see an estimate of your tax bill in real time before it's due which can help you avoid the nasty surprise of a higher-than-expected charge. Furthermore, Found will automatically generate your Schedule C form if you're self-employed.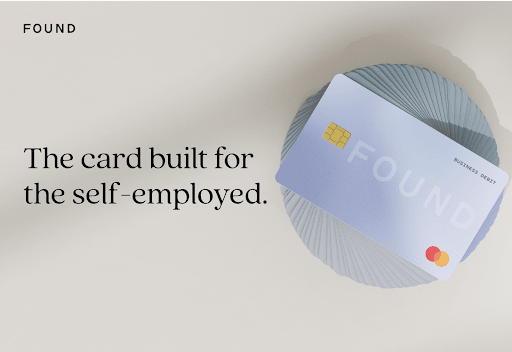 Key Tax Features
Integrated income tracking
Auto-saving for 1099 taxes (i.e. income withholding)
Maximize deductions with built-in expense tracking
Receipt capture and built-in substantiation guidance
Writeoff identification
Profit and loss, expense, and income reports
Auto-generated schedule-C
Annual tax filing packet
Live estimated tax bill
1099 sharing
You can also customize your invoices with your business's branding, which can help create a professional image when communicating with your clients. In addition to this, you can select a payment method for receiving funds. Although this includes credit cards, direct deposits, and payment services such as Zelle, you can't accept cash payments or wire transfers.
Traditional Banking Services
When you sign up for an account, you'll receive a free Mastercard debit card. To help you stay on top of your account balance, Found will send instant notifications of purchases made with your card. You can also use the card to withdraw funds at any ATM that accepts Mastercard.
As you would expect from a traditional banking service, your account will include account and routing numbers.
Interest Rates and Fees
One of the most attractive aspects of Found is that you won't be charged any fees to use its business banking service. However, you may have to pay a fee to withdraw cash at an ATM using your Found Mastercard. These fees are not set by Found or Mastercard, and are determined by the company that owns the ATM.
Customer Service and Online Experience
You can contact Found over phone, email, or through its online query form. Its support hours are 9am-5pm (PST), Monday-Friday.
There is also a detailed selection of FAQs on the company's website, which provides a lot of helpful information about its services.
You can sign up for an account in less than five minutes. After entering your email address into the company's online tool, you'll receive an authorization code. This will allow you to continue with your application by providing further financial details such as your tax ID.
Mobile App
Found's mobile app is available to download from the App Store and Google Play. It allows you to:
Lock and cancel your debit card
Make tax payments
Customize your expense categorization
Track and send invoices
Generate your profit-and-loss statements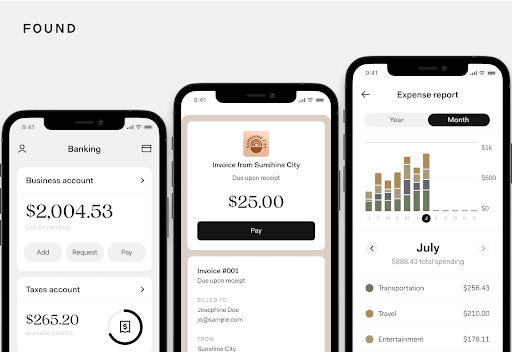 Security
With security being a top concern for small business owners, entrepreneurs can rest assured by the robustness of Found's security features.
In addition to a dedicated fraud team, Found 24/7 monitoring service will immediately alert you to any suspicious activity on your account.
All databases are safeguarded via AES-256 encryption, which provides the highest level of protection currently available. Found also operates with a two-factor authentication system by sending verification codes to mobile phones.
Likewise, Found is insured by the federally backed FDIC program, which means that any funds you deposit will be reimbursed up to a value of $250,000 if the company were to fail.
Found also has a detailed privacy policy on its website.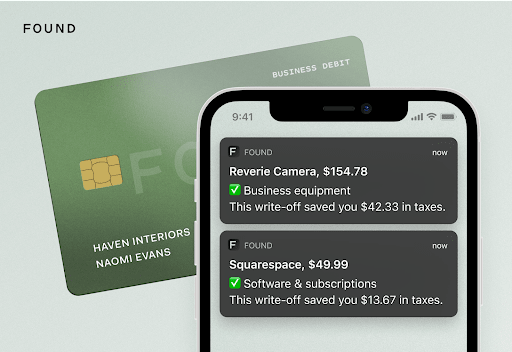 Summary
If you're self-employed and want to save time when organizing your business banking, Found is a great way to streamline all your financial management into one place. While the company doesn't have any physical branches, Found offers many benefits in its impressive selection of tax and bookkeeping tools, and provides comprehensive online guidance that could prove invaluable if you run your own business.
Methodology
We compiled this review by visiting Found's website, contacting its customer service team over email, and reading other online reviews of its service.
Found Visit Found