Current Visit Current
Advantages Over Traditional Banks
With a focus on digital financial management, Current offers a number of real-time features that would not be available with brick-and-mortar banks. Through Current's excellent mobile app, you can sign up for an account in less than 2 minutes, instantly send and receive money to other Current members, and make contactless payments via Apple Pay or Google Pay.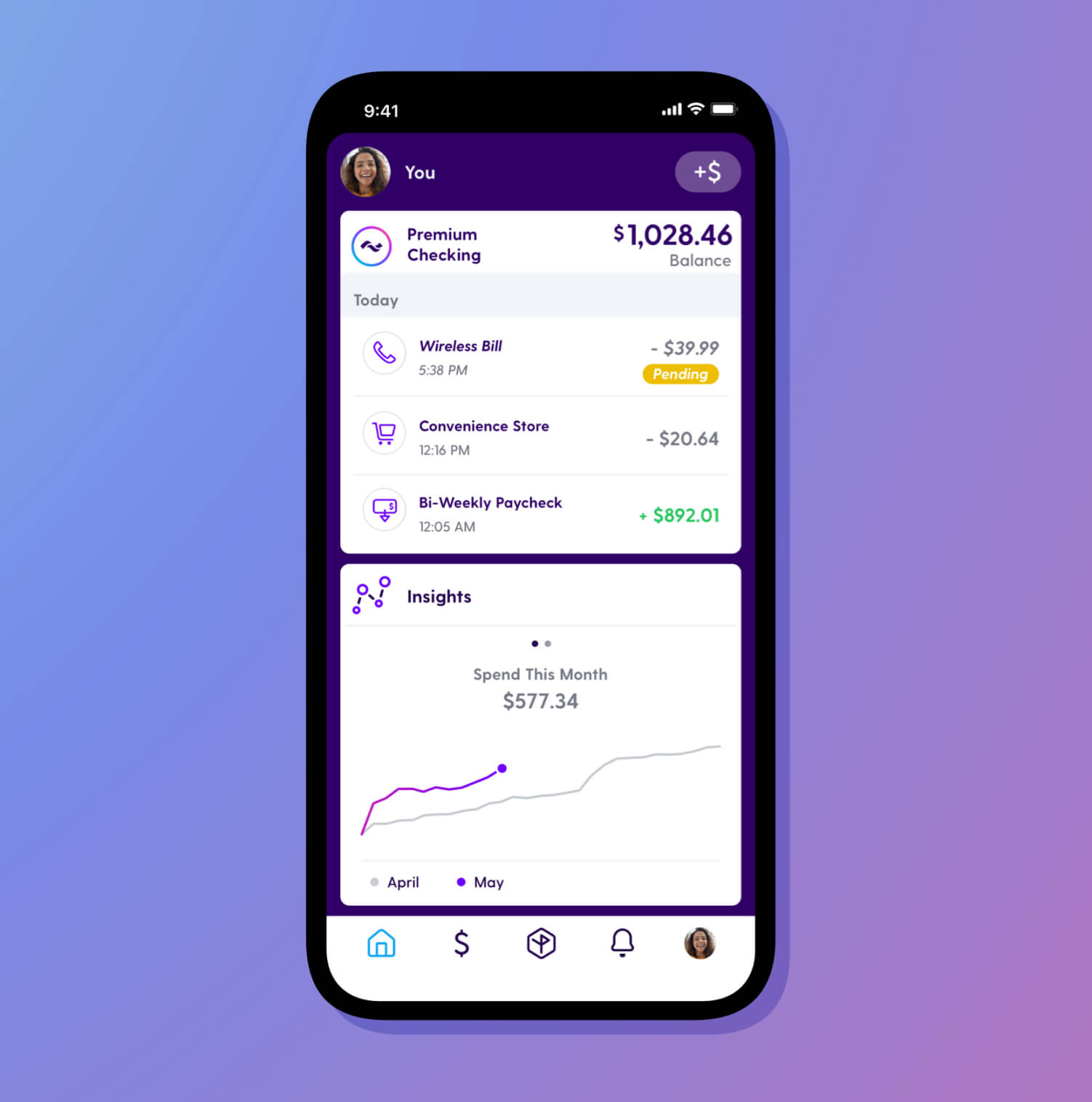 Cutting-Edge Banking Services
Current is a financial tech company and not a bank, with a focus on flexibility and innovation. If you open an account with Current, you can:
Add checks to your account through your phone's camera
Add cash to your account at more than 60,000 stores nationwide
Save money by automatically rounding your purchases up to the nearest dollar and setting the difference aside
No limit on direct deposits (Premium accounts only)
If you opt for a Teen account, your child will receive their own debit card, while the app's parental control features enable you to monitor your teenager's finances through:
Instant spending notifications
Merchant-blocking functions
Spending limits
Automated allowance payments
Instant transfers to your child's account
Traditional Banking Services
Although Current is a banking app, rather than a bank, it does provide some of the more attractive features associated with conventional banks, including:
Access to fee-free withdrawals at more than 40,000 ATMs in the US, thanks to its Allpoint network membership
Cashback on purchases at more than 14,000 participating retailers nationwide
Overdraft up to $100 without overdraft fees
Current Interest: Any member who signs up for a Current Personal Account can get 4.00% Annual Percentage Yield "APY" on up to a total of $6,000 from Current simply by adding money to their Savings Pods and enabling the Interest feature. Members can seamlessly transfer money between Savings Pods and their spending balance and interest accumulates daily.
If you open an account with Current, you will pay the following fees:
Fee
Amount
Monthly maintenance

Basic account: fee-free
Premium account: $4.99 per month
Teen account: $36 per teen per year

Minimum balance
$0
Bank transfer
$0
ATM

Allpoint network: $0
Out-of-network: $2.50
International: $3

Cash deposit
$3.50
International purchases
3% of transaction amount
Customer Service and Online Experience
You can contact the company via phone, email, in-app chat, chatbot, or social media. Its support team is available 24/7 via live chat in the app and email.
As you would expect from an app-based solution, Current's online experience is sleek and intuitive. When we tested the site, we easily found all the information we needed and were also impressed by the prompt and polite response we received from its customer service team when we posed as a potential customer.
T: (888) 851-1172
E: support@current.com
Mobile App
Should you open an account with Current, you can download the app via Google Play or the App Store. The app allows you to:
receive real-time notifications
find fee-free ATMs in its network
find retailers participating in reward schemes
Watch this video to learn more about Current's app and the services it offers.
Security
If you're concerned about cybersecurity, Current offers a number of features designed to keep your money (and your data) safe, which include:
EMV chips to prevent card skimming
The ability to pause/resume transactions
Secure connections for transferring funds
Fingerprint/face ID lock
A dedicated fraud team
FDIC insurance on funds of up to $250,000 through its issuing bank, Choice Financial Group
Summary
If you're comfortable managing your finances via an app, Current's suite of features can enable you to budget more effectively and even save money. The teenage banking feature also gives you the freedom to manage almost every aspect of your family's finances through a single solution. Current's live chat staff are available 24/7 through the app and provide a fast, efficient service.
Methodology
This review was compiled using information from the Current website and its social media profile.
Current Visit Current