Albert Visit Albert
Advantages Over Traditional Banks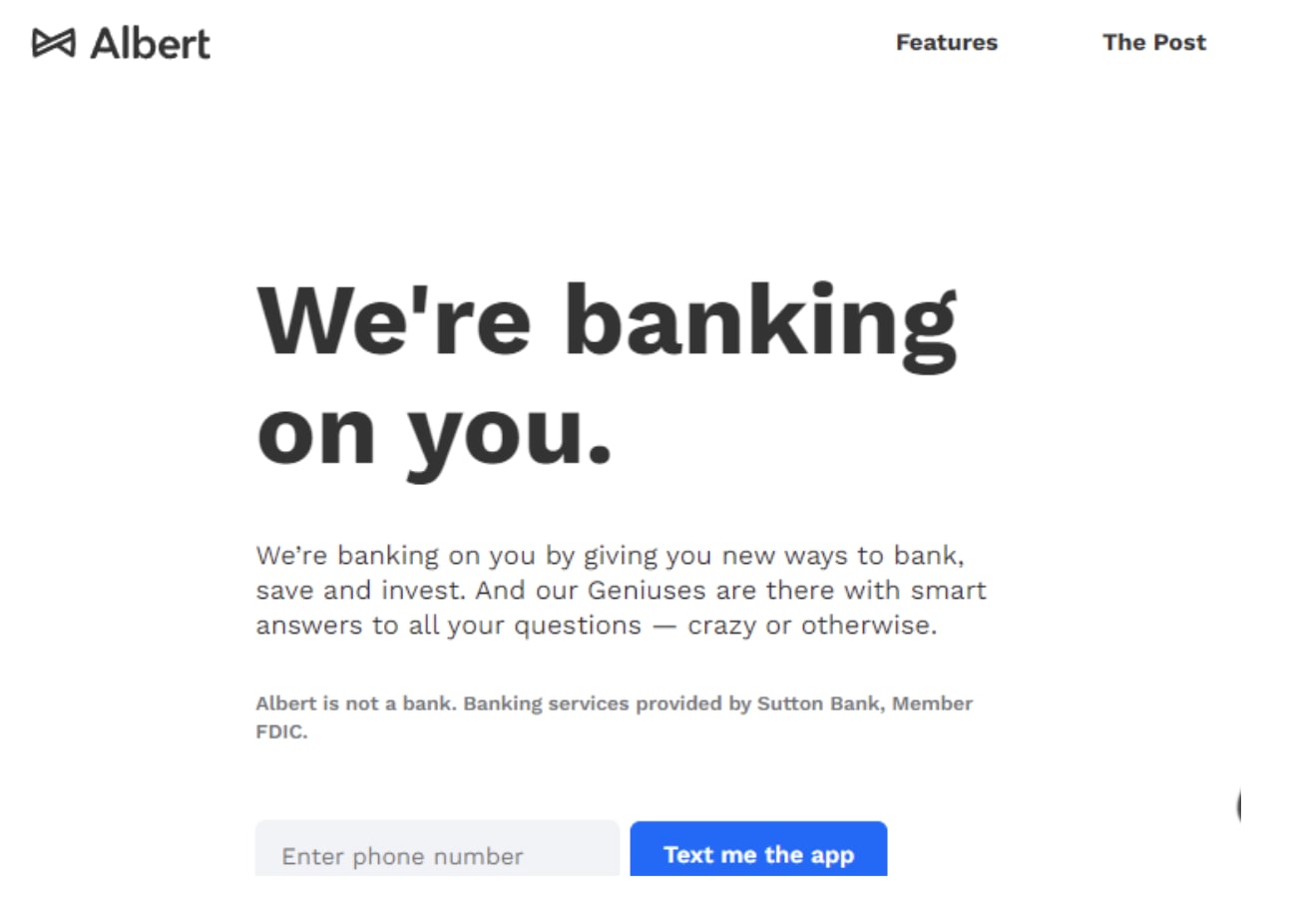 As an app-based solution, Albert offers easier account management than many traditional banks. Its Overview feature allows you to see all the information about your finances in one place. This includes:
Spending broken down by category
Savings activity
Any subscriptions you may not be using
Hidden charges for any of your bills
This can allow you to plan your budget more effectively for the coming weeks, months, or years.
Albert also charges lower fees than many of its traditional bank rivals, including no annual fees or direct-deposit charges.
Cutting-Edge Banking Services
By analyzing your income and expenditure, Albert's Smart Savings feature can identify areas of savings for you.
Link an external checking account to your Albert app, and, when it has identified a potential saving, Albert's algorithm will transfer this money from your checking account into your Albert digital wallet. If you later need access to this money, you can transfer it back to your checking account with no fees. You can choose to save a predetermined sum on a weekly, twice monthly, or monthly basis on top of this.
Rather than charging overdraft fees, the Albert app allows you to borrow up to $250 if cash flow is tight. This service is interest-free and doesn't require a credit check. Albert will deduct the amount you've borrowed from your next paycheck before it's deposited into your account.
And, if you set up a direct deposit to have your paycheck paid into your account, you may receive your money up to 2 days early.
Traditional Banking Services
In addition to its cutting-edge model, Albert has retained a number of the more useful features of traditional banking.
You can, for example, use your Albert cash debit card to withdraw funds at more than 55,000 ATMs in the AllPoint network.
You can also earn between 5% and 20% cash back on purchases made on your Albert card at participating retailers such as McDonalds, Walmart, and Starbucks. This money will typically be deposited into your account within 3 business days.
Albert also offers a refer-a-friend bonus, which could allow you to both receive $150.
As your Albert cash debit card is part of the MasterCard network, you'll also receive benefits such as the following.
ID theft protection: identity and credit monitoring alerts 24/7
Extended warranties: doubling the length of a manufacturer's warranty by up to 2 years
Purchase assurance: up to $1,000 per claim
Cellular wireless telephone protection: covers the cost of repair or replacement on phones associated with your Albert account up to $200 (up to 2 claims per year)
Identity theft reimbursement: covers costs such as attorneys' fees, court costs, lost wages, and notarization costs up to $2,500
Interest Rates and Fees
If you open an account you won't pay any fees for monthly usage, card purchase, or direct deposits. The following will apply.
Savings bonus
0.1% annual bonus (increases to 0.25% with Genius)
Genius subscription
Between $6 and $16 per month (pay what you think is fair)
ATM fee
AllPoint network: $0
Out-of-network: $2.50
Cash advance fees

Advance to Albert card with direct deposit: $0
ACH transfer: $0
Instant delivery to Albert account: $3.99.
Standard delivery to bank account in under 10 minutes: $6.99

Foreign currency fee
$0 through Albert (third party fees may apply)
Albert is currently offering $75 to customers who open an account and connect a qualifying direct deposit.
Customer Service and Online Experience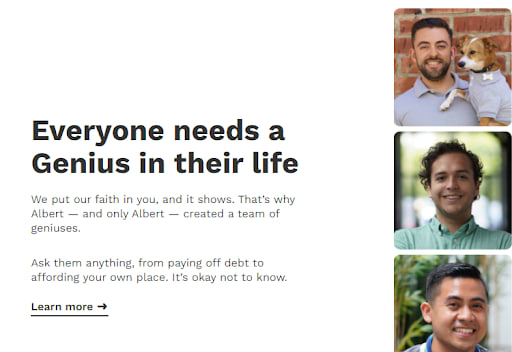 You can contact the company by email, text, or in-app messaging. When we contacted Albert over email, we received an extremely detailed response within 10 minutes.
Customer service hours are Monday to Friday, 6am-6pm (PT), and Saturday and Sunday, 9am-6pm.
If you upgrade to the Genius service, you'll also have access to Albert's financial advisors. Available via text, they can provide tailored financial guidance, which includes helping you build a portfolio of stocks from as little as $1.
Mobile App
To access any of the features described in this review, you'll need to download Albert's app from the Apple Store or Google Play. Alternatively, you can enter your cell number into the website and receive details of the app via text.
Once the app is installed, you can:
Get direct deposits
View your overall financial health
Receive guided investment guidance from the Genius team
Deposit checks via mobile phone
Security
With a dedicated fraud team, Albert offers a number of features to protect your data and your money. These include:
Password/username protection
Notification of unusual activity
Two-factor authentication
PIN code access
Biometric logins
Protection of funds up to $250,000 through FDIC program
All your account and personal information is encrypted using a secure sockets layer (SSL), which offers the same level of security as all major banks.
There is also an extremely detailed privacy policyy on Albert's website.
Summary
If you're searching for a tech-friendly way to get your finances in order, Albert could be right for you. Its free-to-download app makes it easy to budget effectively and save money. In addition, upgrading to Genius could provide you with guidance tailored to your circumstances. Although Albert doesn't offer phone support, this may not be an issue if you prefer digital money management.
Methodology
This review was compiled by using information on Albert's website and provided by its customer service team.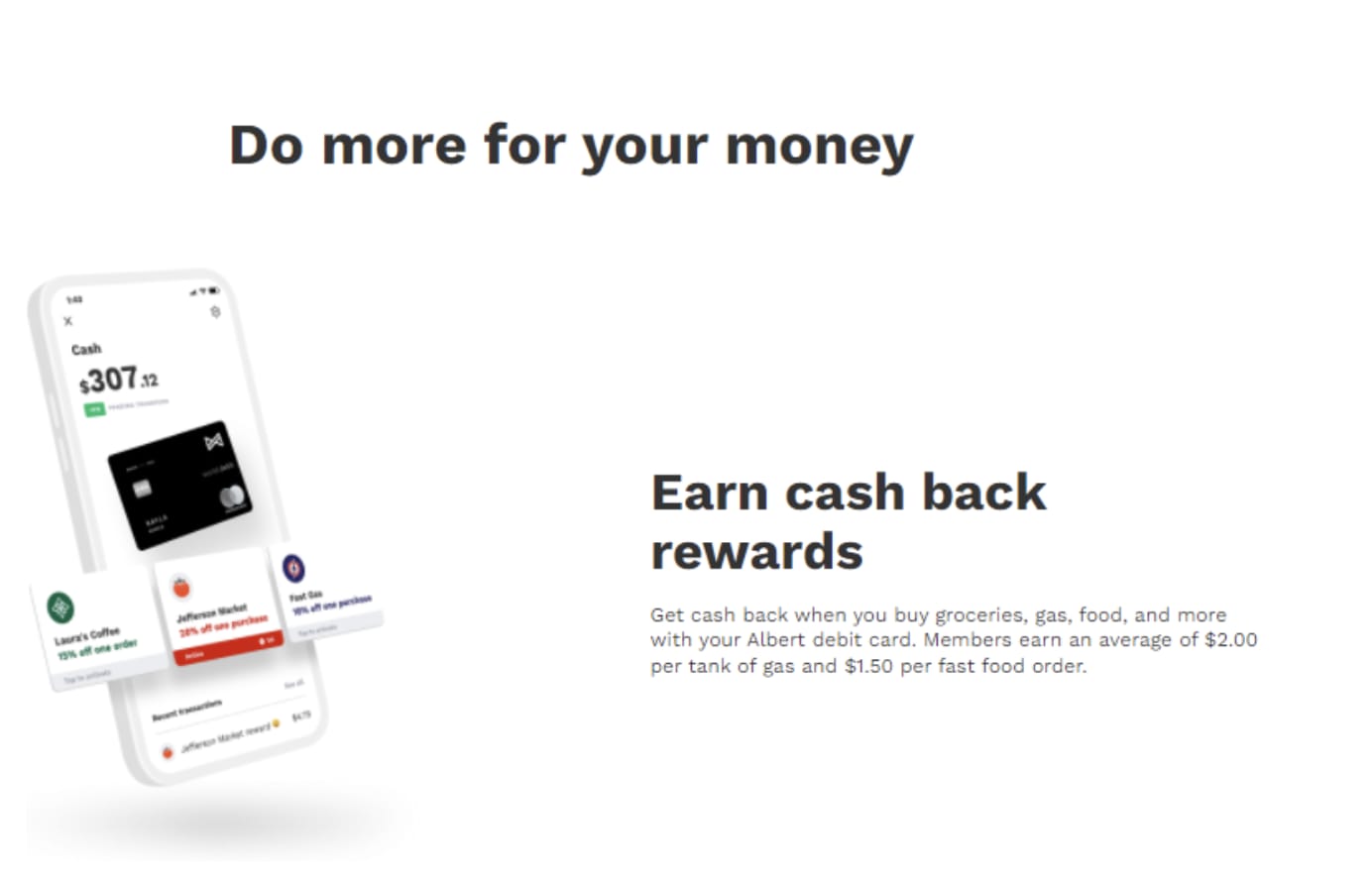 Albert Visit Albert