Revolut Visit Revolut
Advantages Over Traditional Banks
It's free to set up an account on Revolut, and you can do it via the app in minutes, without filling out complicated forms or needing to take ID into a branch (you can verify remotely using a photo of your ID document). There's no minimum deposit needed to open a current account or a Savings Vault that can start earning interest.
Cutting-Edge Banking Services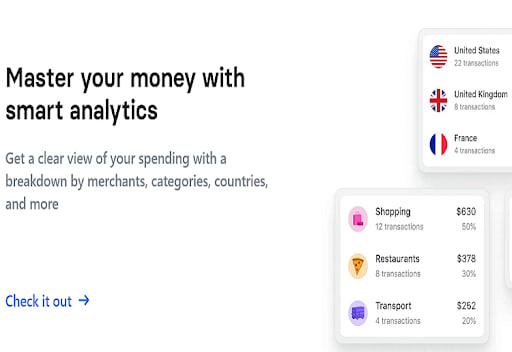 Revolut gives you a range of cutting-edge services that traditional banks are less likely to offer. For example, you can invest in fractional stocks and cryptocurrencies quickly and easily through Revolut. There is also the chance to earn cash back when you use your card and get discounts at Revolut's partnered businesses.
Revolut's app comes with several exciting features that let you manage your money in one place. You can quickly and easily transfer money in the app, including to friends or family abroad. Currency exchange becomes easy, as you can create a new account in your chosen currency to get access toup-to-date exchange rates.
Smart budgeting enables you to analyze your payments, get notifications when you go over your set budget, and review your progress weekly. With vaults, you can put your money aside for different purposes and round up your spare change into them, too. Paying with your phone is easy, as Revolut integrates with both Google Pay and Apple Pay.
Revolut also offers a salary advance (available if you have a direct deposit set up to your Revolut account). This means you can receive your salary up to two days earlier than payday, so you won't be scrambling for loose change at the end of the month. This isn't a loan, so there's no charge for this service; Revolut simply unlocks the deposit earlier than most traditional banks.
Traditional Banking Services

You get unlimited free withdrawals from more than 55,000 ATMs in Revolut's network. From an out-of-network ATM, you can withdraw up to $1,200 monthly for no fee. You can also set up an instant-access savings account (known as a savings vault), which you can take money from at any time with no wait, although interest rates are currently low. Revolut currently doesn't offer credit cards in the United States, but is planning to do so in future. You can get a physical debit card as well as the virtual card to use online.
Interest Rates and Fees
Savings vaults (which are instant access) deliver a variable Annual Percentage Yield depending on your plan.
| | | |
| --- | --- | --- |
| Plan | Cost (monthly) | Annual Percentage Yield (up to) |
| Standard | Free | 0.05% |
| Premium | $9.99 | 0.07% |
| Metal | $16.99 | 0.07% |
Customer Service and Online Experience
The Revolut website has a lot of information to help you, including a rich knowledge base. You can also get further support from the Revolut community, where users answer each other's questions.
If you need to get in touch with Revolut, the easiest way is through the app, where there's 24/7 chat support. Or, you can call the phone line, although help there is only available from an automated service. Be aware that some users have found it difficult to get in touch with a human customer service representative.
Mobile App
Revolut's app is available for both iOS and Android. It gives you access to all of Revolut's features, from checking your balance to making transfers, purchasing cryptocurrency, and saving money in your vaults. Mobile check deposit is also available. The app is generally easy to download and set up, although some users report issues with verification and transferring in new funds.
Security
Revolut's award-winning security system helps keep your account, debit cards, and data secure. All data, including that shared with third parties, is 2048-bit SSL encrypted. You can use the Revolut app to receive spending alerts, so if your card goes missing and is used elsewhere you'll know about it instantly, and you can freeze your debit card if needed. Plus, you can create a single-use card for online shopping to increase your level of security.
Your account is also FDIC (Federal Deposit Insurance Corporation) insured for up to $250,000. Verifying your account requires you to upload a picture of yourself and a valid ID. Logging in to the app requires a passcode or biometrics.
Summary
Revolut has a range of cutting-edge and useful features that allow you to manage your account, analyze and control your spending, save, and even invest. If you have friends and family abroad, Revolut could be a really helpful banking solution, especially with its quick transfer and foreign currency exchange functions. And with Revolut's powerful analytics, you could get a better insight into your spending and hopefully save more, too.
Although you may want to combine your Revolut account with a higher-interest savings account from another provider, its tools could help you make the most of your money and put more away. And, if you want to dabble in investment, Revolut lets you purchase stocks and cryptocurrencies through the same app, making it really convenient to get started in investing. With such a range of features, you're likely to find something to love.
Methodology
We gathered information for this review using the Revolut website and reviews on Google Play and the App Store.

Revolut Visit Revolut