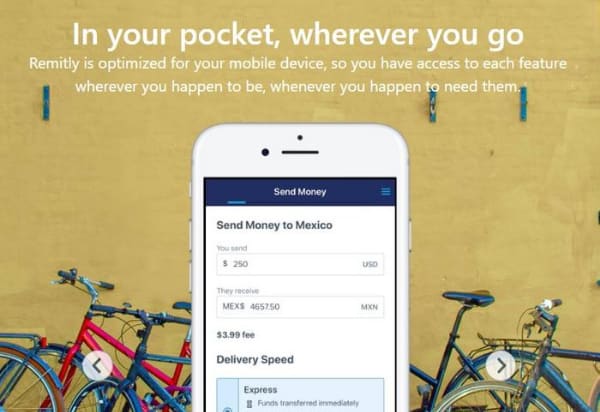 Remitly Fees and Rates
Remitly offers fast and competitively priced money transfers from 16 send or "origination" countries to 57 receive or "destination" countries around the world.
Remitly's fees can vary greatly depending on where you need to send money to and how fast you want it to arrive.
As an example of how rates are determined, let's look at sending money to the Philippines. In this case, sending money by bank transfer (which takes three to five days) is free if the recipient receives Phillipine pesos rather than US dollars. If you pay by debit card for an Express transfer, it costs $3.99 to send less than $1,000 or the transfer is free if you send more than $1,000.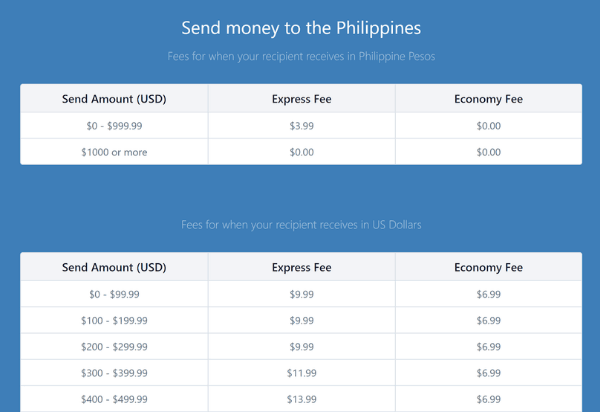 If you want your recipient to receive dollars rather than pesos, however, the fees can be steep. Sending $1,000 in dollars costs $25.99 for Express delivery or $10.99 for an Economy transfer.
Transfer fees vary between countries so we'd recommend checking the cost for the specific country you want to send money to after downloading the app. Sending money to Ghana, for example, costs $4.99 for Express and $3.99 for Economy. Whereas sending money to Bangladesh costs $4.99 for Express and $2.99 for Economy.
It's also important to note that Remitly adds a margin when calculating the exchange rate you will receive for your transfer. However, Remitly's exchange rates are competitive and are typically only between 0.5% and 2% worse than mid-market rates, which means it is still a cost-effective solution for transferring money home.
There's no way around this fee when using Remitly and this is how the company makes money on low-fee transfers.
How Does It Work?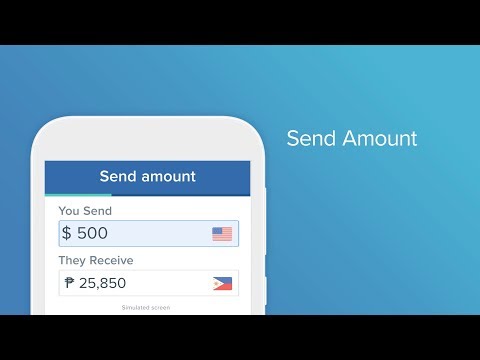 Remitly enables you to send money from 16 origination countries to 57 countries around the world. Each country has its own page on the Remitly website and in the app, so you can look up the current exchange rate and all transfer fees and options.

To sign up with Remitly and initiate a transfer, simply follow these steps:
Create a new account online and choose a username and password. Make sure it's secure since you'll be linking payment information.
Choose a country, recipient, and transfer method. Remitly will display a guaranteed exchange rate and show you all fees associated with your transfer.
When you're ready, hit 'Send.' You can track the status of your transfer through your online account and Remitly will notify you when the transfer is complete or the money is picked up.
Note: Remitly also offers mobile apps for iOS and Android that you can use to initiate and track transfers.
How Do I Pay?
In most countries, you can fund your transfer quickly and easily via debit/credit card or bank deposit. You can also choose how your beneficiary receives their funds. Recipients can receive money via their bank account, cash pickup, home delivery or mobile wallet - however not all options are available in every country, so check online or in the app that they have the option you need.
How Long Does It Take?
There are two speed options when sending money: Express and Economy. Express might cost you slightly more, however funds will be received within minutes of making a transfer. With the Economy option funds can take between 1 and 5 days, but you'll save on transfer fees. Remitly has a 100% satisfaction guarantee, so if you don't receive your money on time you'll get your fees back.
Remitly Top Highlights
Wide Range of Countries: Send money to 57 countries around the world across 4 continents - Europe, Africa, South America, and Asia.
Two Transfer Methods: Transfer instantly with Express or save money on fees using the Economy transfer option.
Low Fees: Transfers in local currencies are often inexpensive and the exchange rate margins are low.
Local Currency or US Dollars: Send money in the local currency or transfer US dollars (only available in some countries).
Cash Pickup: Thousands of cash pickup locations worldwide for recipients without access to mobile banking or e-wallets.
Tracking: Easily check the status of your transfer through your Remitly account.
24/7 Support: Get in touch with Remitly's support team around the clock.
Customer Support
Remitly currently offers live chat support 24/7 in English, French and Spanish, and phone support 24/7 in English and Spanish. The company's website also has a useful help center. You'll find articles covering everything from transfer limits to tracking funds.
Privacy and Security
Remitly is trustworthy and takes a number of steps to make its service more reliable. To start, the platform offers an on-time guarantee. If your transfer takes longer than expected, Remitly will refund your transfer fee (but not the exchange rate margin). Remitly also enables you to secure your account using two-factor authentication to prevent unauthorized transfers.
Bottom Line
Remitly is designed to make it easy and affordable to send money to family and friends around the world. The service is built with migrant workers and immigrants with family abroad in mind. The fact that recipients can pick up cash as well as receive it in their bank accounts is a huge plus, as is the ability to choose between Express and Economy transfer speeds. Remitly also keeps its fees fairly low, which is a major advantage if you're sending money with any regularity.