Currencies Direct Fees & Rates
Currencies Direct doesn't charge any transfer fees. Instead, the platform makes money by offering you a lower exchange rate than the current market rate. Currencies Direct is transparent about this, displaying both the mid-market rate and the exchange rate you'll receive.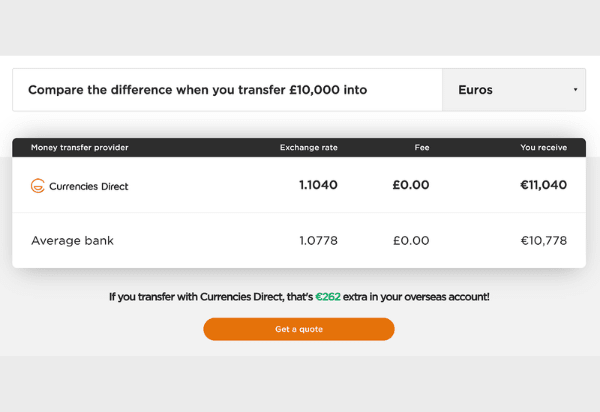 How much Currencies Direct charges through this difference depends on what countries you are transferring between and how much money you're sending. For sending money from the US to the UK, the exchange rate difference is typically between 0.25% and 0.5%. However, if you're sending money to Africa, the rate difference that Currencies Direct is charging can be as high as 1.5%.
One thing to keep in mind is that Currencies Direct requires a minimum transfer of at least $100.
How Does It Work?
Transferring money around the world is easy with Currencies Direct. On the platform's website, just enter what countries you want to send money to and from and how much you want to transfer. You can then get a free quote with Currencies Direct's exchange rate by entering your name, phone number, and email.
If you're happy with the quote, you can send money online through the Currencies Direct app (for iOS and Android) or over the phone. All transfers must be made to a recipient's bank account, although you can pay for your transfer directly from your bank account or with a debit card.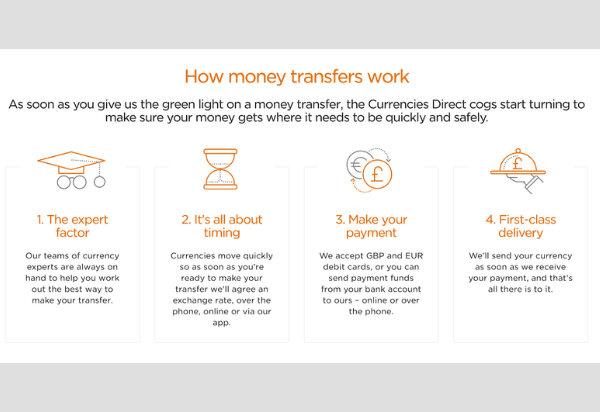 How Long Does It Take?
Transfers with Currencies Direct are typically completed within the same business day, although some transfers can take up to two days. You can monitor your transfer's progress at any time on the platform's website or through the mobile app.
Currencies Direct Top Highlights
Currencies Direct has a few features that help it shine for transferring money around the world:
Global Breadth
Currencies Direct supports transfers between more than 120 countries around the world. It also supports more than 40 different currencies, including most currencies used in Europe and Southeast Asia.
Limit Orders
Currencies Direct support limit orders, which allow you to make a transfer only if the exchange rate hits a predefined level. This is a good option if you don't need to transfer money immediately and wait until you can get a better exchange rate. Currencies Direct can either initiate your transfer as soon as the desired rate is reached or send you an alert.
Multi-currency Accounts
For businesses that send and receive money in multiple currencies, Currencies Direct offers multi-currency accounts. These accounts enable you to hold money in dollars, pounds, and euros all at the same time and instantly interconvert between them at Currencies Direct's going exchange rate at any time.
Simultaneous Payments
Another nice feature for businesses is that Currencies Direct enables you to set up multiple simultaneous payments in various currencies. This is extremely helpful if you want to pay overseas employees at the same time. Individuals can also take advantage of this feature to send money to friends and family scattered around the world.
Customer Support
Currencies Direct offers US support from 9 am to 5 pm Eastern, Monday to Friday, by phone and email. Although these support hours are somewhat limited, Currencies Direct has more than 20 branches around the world. So if you need help outside of regular business hours, you can contact the company by contacting an international branch.
Privacy and Security
Currencies Direct is regulated by the Financial Conduct Authority, which is the UK equivalent of the Financial Industry Regulatory Authority in the US.
The company keeps all customer funds completely segregated from its own funds, an important firewall that ensures your money is going to its intended destination.
The company also subscribes to voluntary regulations like the Non-investment Products Code and is highly rated by the UK credit agency Dun & Bradstreet.
Bottom Line
Currencies Direct is a high-quality money transfer service that offers zero transfer fees and competitive exchange rates. The service enables you to send money as fast as the same day to over 120 countries around the world. However, you must send at least $100 and transfers have to be sent to a bank account rather than to a cash pickup location.
Initiating a transfer is simple through Currency Direct's web interface or mobile app. You can easily enter limit orders if the current exchange rate isn't as favorable as you'd like. Businesses can also benefit from Currency Direct, since the platform offers tools like multi-currency accounts and simultaneous payments around the globe.