Who Can Benefit From Toggle?
Toggle is best suited for renters who want both liability coverage for their rental property and protection for their belongings. The nice thing about Toggle is that you can fully customize your plan, so you only pay for coverage for the items you're worried about. You can also opt for a relatively low $100 deductible, which is advantageous if you want to protect lower-cost items.
That said, note that Toggle is slightly more expensive than some of its competitors for similar amounts of possession coverage. So, this company may not be the best choice if you have a lot of expensive items to insure.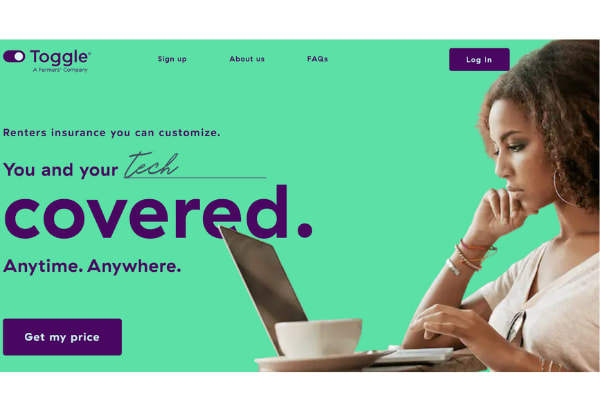 Features
Toggle offers both liability coverage for renters and insurance for your stuff. The platform stands out for enabling you to upgrade or downgrade your coverage at any time. Plus, your coverage is divided into multiple categories. Toggle offers additional coverage for pet damage and temporary living costs, plus an option to pay out the replacement cost for your items rather than just the cash value.
Upgrade or downgrade coverage at any time
Spread coverage across multiple categories
Optional pet damage coverage
Choose your own deductible
All plans include $100,000 or more of liability coverage
Application Process
Getting started with Toggle is relatively easy, as you can go through the entire process online. Just enter your name, address, and birthday and Toggle will do a soft pull of your credit report to get started. Note that this won't affect your credit score. From there, you can choose and customize your policy. Typically, a new Toggle policy is finalized within a few days. When you buy a policy, it becomes effective at the time of purchase along with proof of insurance and policy documents.
One thing to note, though, is that Toggle isn't available in all 50 states. Notably, coverage isn't available in New York, New Jersey, Washington, or California, among around 20 other states.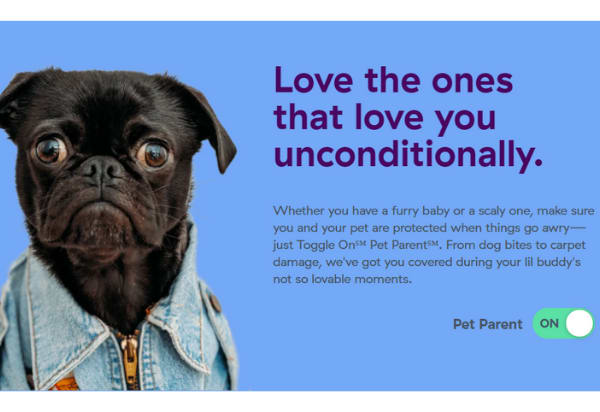 Toggle Visit Site
Policy Types and Terms
When you sign up for Toggle, you have three default policies to choose from: Basic ($5 per month), Standard (starts at $12.50 per month), and Premium (starts at $25.25 per month). All plans are month-to-month and you can upgrade or downgrade at any time.
The Basic plan is essentially liability coverage:
Up to $100,000 liability coverage
$1,000 worth of coverage for your stuff
$500 deductible.
The Standard plan includes significantly more coverage for your possessions:
Up to $100,000 liability coverage
Customizable coverage for your belongings
Customizable deductible
The Premium plan includes:
Up to $200,000 of liability coverage
Temporary housing reimbursement up to $100 per day if you can't occupy your home for any reason that is covered by the policy
Customizable coverage for your belongings
Customizable deductible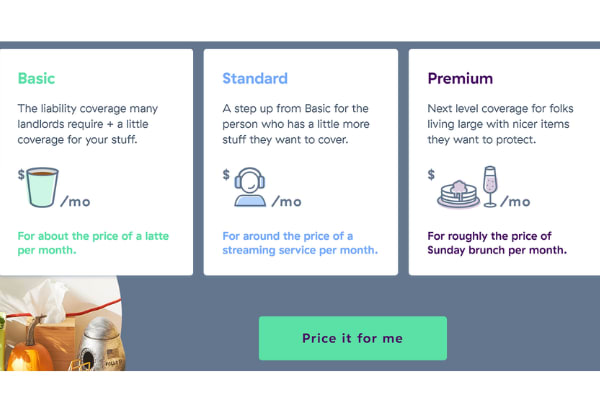 The exciting part about Toggle is that you can customize how much protection you want for your belongings with all plans (with the exception that you can't remove liability). You can increase your coverage in $1,000 increments for categories like 'Technology', 'Furniture and Appliances', 'Fashion and Jewelry,' or 'Active'. This means that your plan is perfectly tailored to the high-value items you want to protect.
Notably, you can also choose your deductible. Toggle offers options for $100, $250, $500, or $1,000 deductible amounts.
Finally, Toggle offers some add-on coverage you can purchase. This includes coverage for pet damage in your home and replacement value coverage. If you don't opt for replacement value coverage, Toggle will only insure your items for their depreciated cash value rather than the amount it costs to replace them.
How Safe Is It?
Toggle is owned by Farmers Insurance, a major national insurer that's been around for over 90 years. In that sense, it may be significantly more trustworthy than other low-cost renters' insurance companies.
Help & Support
Toggle's customer support team is available through live chat Monday - Saturday from 9:00 AM - 9:00 PM eastern time and through email. You can write in with a support request or a claim. The claims team may also contact you via phone if need be. The Farmers-trained customer service team typically responds within a few hours to let you know they had received a claim and it may take a week or two of back and forth with the representative to fully document and pay out your claim.
Bottom Line
Toggle makes it easy to get renters' insurance that is perfectly suited to your needs. Every plan comes with liability coverage of $100,000 or more, and you can pick how much coverage you need for your belongings across several categories of items. As your possessions age or you buy new stuff, you can easily adjust your coverage levels to reflect how much insurance you need. The only downside to Toggle is that policies can be slightly expensive if you need to insure a lot of items.
Physical Address
6301 Owensmouth Ave, Woodland Hills, CA 91367