Trupanion summary
Trupanion is the only provider that can pay their portion of your bills directly to your veterinarian with their unique software, so you don't have wait for reimbursement. With the most flexible pricing options and unlimited payouts on all new injuries and illnesses, Trupanion is here to help you keep your pet healthy.
Pros
Enroll pets from birth
Unlimited lifetime coverage
Direct claims payment to veterinarians available
Coverage available in United States, Canada and Australia
Cons
Waiting periods: 5 days for accidents; 30 days for illnesses
$35 enrollment fee (in select states)
Online experience
Basic site with some learning resources
3.0
Customizable rates and services
Non customizable reimbursement
3.0
Claims payout waiting period
Same day
5.0
Customer support
24/7 communication and a pet hotline available
5.0
Bundles
No bundles available
1.0
Highlights
Unlimited payouts on eligible issues
90% coverage
Direct payment of claims available
No penalties for filing claims
24/7 customer service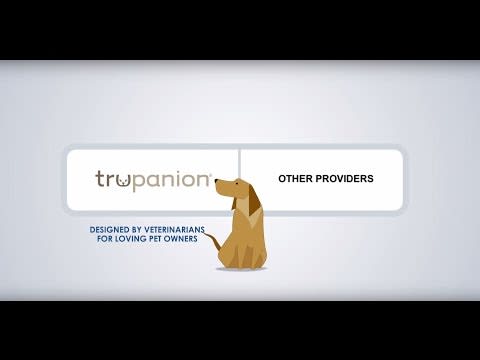 What Trupanion Covers
Coverage includes diagnosis, surgery, hospitalization and medication for virtually any accident or illness, as long as it isn't pre-existing. This includes congenital conditions and even non-routine dental coverage. The policy is unique in that it also covers prosthetic devices and carts.
Where Trupanion shines is in the value you get for your pet's lifetime coverage and the flexibility that the policy offers. Because the policy is month to month, you can adjust coverage without having to wait until your annual renewal or worrying about issues becoming pre-existing. Plus, Trupanion prides itself on offering extremely high value to pet owners. That's why they always offer 90% coverage and unlimited payouts on new conditions. If you're looking for a premium policy for your best friend, look into a Trupanion policy.
| What Trupanion covers | What Trupanion doesn't cover |
| --- | --- |
| Unexpected injuries, illnesses, accidents | Pre-existing conditions |
| All hereditary/congenital conditions including hip dysplasia | Wellness, elective, cosmetic |
| Diagnostic tests, surgeries, medications, overnight hospitalization | Exam fees |
| Prescription food, supplements | Sales tax (in most states) |
| Endodontics of molars | |
Limits and Deductibles
Trupanion has a wide range of deductibles to choose from, including the option not to have a deductible at all. This means a pet owner can choose from hundreds of price options to pick what works for their budget.
Should you choose to have a deductible, it will be payable per condition instead of per year. The advantage with a per condition lifetime deductible is that if an incident is chronic and continues for more than a year, you'll only have to pay the deductible for that issue once. Payouts are 90% of actual costs across the board, after the deductible. There are no per-incident or lifetime caps.
Trupanion's coverage is unlimited for the lifetime of your pet, with no payout caps or limits. Premiums do not increase based on pet's age or a number of claims filed. Also, there is no waiting period and no age restrictions for pets with hip dysplasia.
Price
The cost of a Trupanion policy depends on your pet's age, breed, species, sex and the standard cost of care in your area.
The cost of insuring a 2-year-old mixed breed cat with a $300 deductible in Chicago is $34.67. There is also a $35 enrollment fee per pet in most states. This makes Trupanion one of the more expensive pet insurance providers on the market though their coverage is extremely comprehensive, which can make it well worth the additional cost.
Optional Coverage
| Recovery & Complementary Care Rider | Pet Owner Assistance Package |
| --- | --- |
| Rehab therapy | 3rd party property damage |
| Acupuncture | Advertising and reward for a lost pet |
| Hydrotherapy | Boarding fees |
| Chiropractic care | Holiday vacation cancellation fees |
| Behavior modification/therapy | Burial fees |
Age Limits
The Trupanion policy allows you to enroll your pet from birth for true lifelong coverage.
All cats and dogs under 14 years of age are eligible to enroll for lifelong coverage, which means that if you enroll your pets before their 14th birthdays, they will be covered for their entire lives.
Conclusion
Trupanion offers a straightforward plan that covers 90% of the cost incurred due to any accident or illness, as long as it isn't a pre-existing condition. Their customer service is available 24 hours a day, 7 days a week including holidays. Their ability to pay veterinarians directly is an industry first and allows customers to only pay their portion of the bill, instead of having to pay for the entire invoice and wait for reimbursement. Trupanion's superior customer service and nearly $1 billion paid out in claims make it one of the most popular choices on the market.
Terms and conditions apply, please see Trupanion.com for full coverage details. Policy options and details vary by state, please review your state's specific coverage. Trupanion is a registered trademark owned by Trupanion, Inc. Underwritten in Canada by Omega General Insurance Company and in the United States by American Pet Insurance Company, 6100-4th Ave S, Seattle, WA 98108. Please visit AmericanPetInsurance.com to review all available pet health insurance products.