What's Covered?
Pumpkin plans cover an impressively wide range of conditions and treatments. Accidents are covered as well as new illnesses, regardless of whether the illness was preventable with a vaccine or medication. The same is true for dental coverage—dental illness issues are covered even if your cat or dog does not get an annual dental exam.
Pumpkin plans also cover sick exam fees, diagnostic and imaging fees, surgery and hospitalization fees, and prescription medication and supplements for covered conditions. You can use your policy to pay for behavioral issues and alternative treatments like acupuncture if desired.
If you opt for the optional preventive care plan add-on, Pumpkin Preventive Essentials, you also get annual vaccines (two for dogs, one for cats), one annual wellness exam fee, and more. There's also a puppy benefit that reimburses for four vaccines, including ones that you did before enrolling.
All dogs and cats 8 weeks and older are eligible to enroll for coverage, regardless of whether they have pre-existing conditions. However, pre-existing conditions are not covered by Pumpkin plans. Unlike some other pet insurances though, Pumpkin's plan will be able to cover most curable pre-existing conditions that have been free of symptoms & treatment for 180 days and occur again in the future (with the exception of knee/ligament conditions).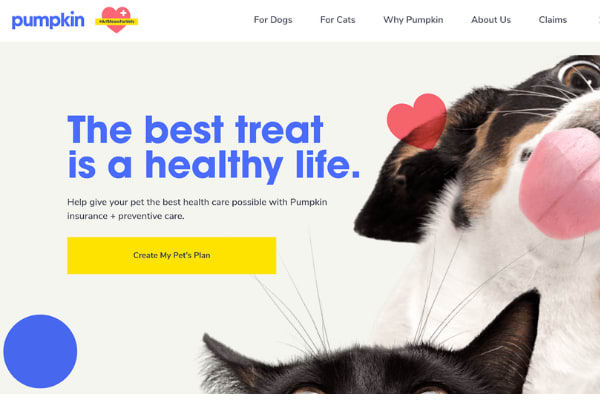 Insurance Plans & Pricing
Pumpkin has a single insurance plan that applies for both dogs and cats. For dogs, customers can select either a $10,000, $20,000 or Unlimited annual limit. For cats, they can choose either a $7,000, $15,000, or Unlimited annual limit.
Pricing varies depending on whether you want a $100, $250, $500, or $1,000 deductible. Note that Pumpkin has an automatic 10% discount for each additional pet for which you buy an insurance policy.
What's Not Covered
One of the things Pumpkin does not cover is pre-existing conditions. In addition, after paying your annual deductible, your insurance policy entitles you to a 90% reimbursement for covered costs. You are responsible for a 10% co-pay. For all exclusions and full terms, visit pumpkin.care/insurancepolicy.
Waiting Periods
Pumpkin requires a 14-day waiting period for your insurance coverage to take effect for both accidents and illness. However, there are no waiting periods for Preventive coverage (some preventive coverage is retroactive, even offering you a refund if you sign up after you visit your vet). The company also has a 30-day money-back guarantee as long as you have not yet made a claim.**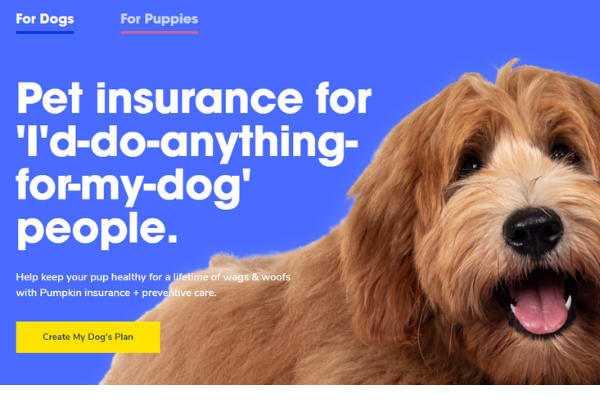 Coverage Limits
Pumpkin's plan has multiple options of coverage limits, depending on your preferences and your pet's needs. For dogs, customers can select either a $10,000, $20,000 or Unlimited annual limit. For cats, they can choose either a $7,000, $15,000, or Unlimited annual limit. Based on their research, 99% of insured pet owners typically haven't spent more than that, which is how those numbers were chosen.*
Reimbursement and Deductibles
Pumpkin's plan includes a 90% reimbursement rate. You can choose between a $100, $250, $500 or $1,000 deductible for your plan. Costs for a four-year-old, medium-sized mixed breed dog living in 19711 are below. (Prices are accurate as of 7/1/2020 and vary based on plan type, pet breed, age, and location. To find up-to-date pricing information in your area, you can visit the site directly for a quote.)
| Deductible | Monthly Premium |
| --- | --- |
| $100 | $98.19 |
| $250 | $77.67 |
| $500 | $63.04 |
| $1,000 | $46.83 |
Claims and Service
Submitting a claim to Pumpkin is refreshingly simple. Just upload a copy of your vet bill using the website, or email or mail the claim, and the company will process your claim or follow up with any questions. You can also request that Pumpkin reimburse your vet's office directly.
If you have problems, you can get in touch with Pumpkin's customer service by phone from 8 am to 8 pm Monday to Friday (Eastern time). You can also send an email and expect a reply in 24 hours or less.
What You Might Like
Covers alternative therapies and behavioral issues
Prescription food for eligible conditions is covered***
Optional preventive health plan includes vaccinations and an annual wellness plan
Dental illness covered without annual exam
Hereditary conditions are covered, even high-risk ones
10% discount for each additional pet you cover
What Pumpkin Could do Better
No coverage for pre-existing conditions
Expensive monthly premiums even with a high deductible
Contact Details and Address
help@pumpkin.care
1-866-ARF-MEOW
251 W 30th St # 9W, New York, NY 10001
How Pumpkin Compares:



Waiting period

Sick exam fees

Accidents: 14 days

Illness: 14 days

Included

Accidents: 5 days

Illness: 30 days

Not covered
Bottom Line
Pumpkin's pet care is extremely thorough as long as you remain within the coverage limits. There are few ongoing requirements to maintain coverage, which is good news if you're not always the best about staying on top of annual dental visits or vaccinations. That said, Pumpkin's plan comes with a higher monthly premium, so this insurance is suited for pet owners who expect to use a significant amount of the coverage.
About Pumpkin
Pumpkin Insurance Services Inc. (Pumpkin) is a licensed insurance agency, not an insurer. Insurance is underwritten by United States Fire Insurance Company, a Crum & Forster Company and produced by Pumpkin. Pumpkin receives compensation based on the premiums for the insurance policies it sells.
Pumpkin Preventive Essentials is not an insurance policy. It is offered as an optional add-on non-insurance benefit. Pumpkin is responsible for the Pumpkin Prevent Essentials product and its administration.
Pumpkin Pet Insurance policies do not cover pre-existing conditions. Waiting periods, annual deductible, co-insurance, benefit limits and exclusions may apply. For full terms, visit pumpkin.care/insurancepolicy. Products, discounts, and rates may vary and are subject to change. More information available at checkout.
*Based on United States Fire Insurance Company data, August 2019.
The data shows less than 1% of insured dog parents typically submit claims totaling over $10,000 in a policy year and less than 1% of insured cat parents typically submit claims totaling over $7,000 in a policy year.
**30-DAY MONEY BACK GUARANTEE TERMS: Cancel Pumpkin Pet Insurance in the first 30 days and get a full refund as long as you have not received approval or payment for a claim. 30-Day Money Back Guarantee not available in NY.
***PRESCRIPTION FOOD COVERAGE TERMS:
Pumpkin insurance covers prescription food to treat an eligible accident or illness. It does not cover prescription food used for weight management or general health maintenance.
COMPARISON INFORMATION: Comparison information is provided using publicly available information as of 7/1/20 and is only meant to summarize program features, not a specific plan. Review the provider's plan terms for more details. The description of the providers' plans are not provided by that company. If you have questions about other plans, please contact an agent of that company. It is our intention to provide fair and accurate comparison information. We attempt to keep information up to date but it may change from time to time. If you are aware of any inaccuracies or changes in the information provided, let us know by emailing help@pumpkin.care.