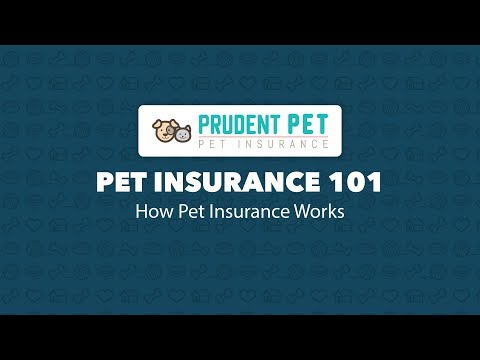 Overview
Prudent Pet Insurance launched in October 2018. For a new player, it makes a good first impression, offering multiple ways of getting personalized advice from its customer service team. It's also easy to get a free quote on their site to determine the cost of your pet's policy up front. Prudent Pet offers three plans, Accident & Illness and Accident-Only for dogs and cats. One of the main benefits is their Wellness Care Coverage, which covers many bases not covered by most standard forms of pet insurance.
What's Covered?
Prudent Pet offers three policies with an optional add-on. The first policy is for Accident-only coverage. It is their most basic plan and spans a rather comprehensive list of expenses which includes certain costs other providers might cover under illness policies. The second policy is its Essential plan. It includes cancer treatments, such as chemotherapy and radiation, alternative therapies sometimes not included by their competitors as well as treatment for behavioral problems. The optional add-on is for Wellness Care. It provides benefits for wellness exams, flea and tick medication, dental cleaning and more. For a complete list of plan benefits visit their site or contact their customer service team.
Eligible Accident expenses:
Alternative therapy
End of life expenses
Intravenous (IV) fluids and medications
Medical supplies
MRI or CT scans and x-rays
Poison control consultation fees
Prescription food to treat a covered condition (not for maintenance or prevention)
FDA-approved prescription medications
Stem cell therapy
Supplements to treat a covered condition (not for maintenance or prevention)
Tooth Extractions
Veterinary treatment, including examinations, consultations, and laboratory tests
Preventative Care add-on benefits:
Dental cleaning
Spay/neuter
Wellness exam
Deworming
Health certificate
Flea/heartworm prevention
DHLPP vaccine/titer or feline FVRCP vaccine/titer
Rabies or Lyme vaccine/titer or feline FIP vaccine/titer
Bordetella vaccine/titer
Fecal test
Heartworm test or feline FELV test
Blood test
Urinalysis
Insurance Plans & Pricing
Like most pet insurance companies, Prudent offers accident-only and accident & illness coverage. Prices vary radically by age, breed, level of deductible, reimbursement, and policy limit—with particularly expensive coverage for older dogs.
Costs also vary ever-so-slightly from state to state. For example, where an Illinois resident would pay $19.33 for accident-only or $52.20 for accident & illness for a 10-year-old domestic cat, a California resident would pay $17.57 or $47.45.
For an additional $10/month ($120/year), Prudent throws in seven preventive benefits with up to $250/year in coverage. For $25/month, your pet gets 12 preventive benefits with up to $450/year in coverage.
The standard coverage is a $250 deductible, 80% reimbursement, and $15,000 policy limit. For example, for a 6-year-old dog, if you lower the deductible to $100 but keep the 80% reimbursement and $15,000 policy limit, you would pay $19.89 for accident-only and $60.39 for accident & illness.
Their site is exceptionally user-friendly and it takes only a few seconds to get an online quote to see how much your pet's policy will cost you. Just provide your pet's name, breed, age, sex, and your zip code and email address to get an instant quote on the site. You'll also receive an email containing your pet's quote to refer to when you're ready to purchase a plan.
The following tables show the cost of buying Accident-only and Accident & Illness coverage, using the examples of a Labrador Retriever and common/domestic cat in Illinois. The tables show what happens when deductible, reimbursement, or policy limit are raised or lowered.
Deductible (Accident-only/Accident & Illness)
| Animal, Age | $250 | $500 |
| --- | --- | --- |
| Dog, 6 y.o. | $17.57 /$47.45 | $14.83 /$38.12 |
| Dog, 10 y.o. | $28.59 /$153.74 | $23.72 /$125.80 |
| Cat, 6 y.o. | $19.33 /$33.41 | $16.31 /$26.83 |
| Cat, 10 y.o. | $19.33 /$52.20 | $16.31 /$41.93 |
Reimbursement (Accident Only/Accident & Illness)
| Animal, Age | 80% | 90% |
| --- | --- | --- |
| Dog, 6 y.o. | $17.57 /$47.45 | $18.80 /$51.72 |
| Dog, 10 y.o. | $28.59 /$153.74 | $30.77 /$166.26 |
| Cat, 6 y.o. | $19.33 /$33.41 | $20.68 /$36.42 |
| Cat, 10 y.o. | $19.33 /$52.20 | $20.68 /$56.90 |
Policy Limit (Accident Only/Accident & Illness)
| Animal, Age | $15,000 | Unlimited |
| --- | --- | --- |
| Dog, 6 y. o | $17.57 /$47.45 | $20.96 /$56.61 |
| Dog, 10 y.o. | $28.59 /$153.74 | $34.10 /$183.39 |
| Cat, 6 y.o. | $19.33 /$33.41 | $23.06 /$39.85 |
| Cat, 10 y.o. | $19.33 /$52.20 | $23.06 /$62.26 |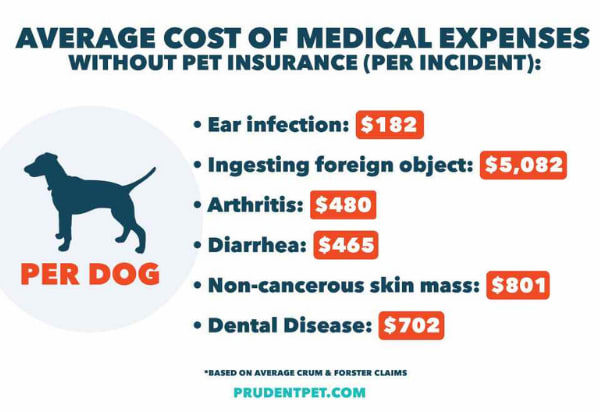 What's Not Covered
The following is not covered by Prudent Pet's accident & illness coverage:
Pre-existing conditions
Cosmetic procedures
Breeding costs
Waiting Periods
Prudent has a 14-day waiting period for coverage, comparable to their competitors. This means your pet's coverage will only become active within 14 days of the policy's start date. There is a 5-day waiting period for accident-only plans. If your pet suffers from illness or injury during the waiting period, it will not be covered, and its illness will be considered pre-existing. However, an injury or illness that is cured and doesn't show symptoms or require treatment for 180 days will no longer be regarded as pre-existing, and will, therefore, qualify for coverage.
Coverage Limits
Customers may choose from either one of the following annual coverage limits: $10,000 or unlimited. Not all insurers offer unlimited coverage. While this type of coverage is usually extremely expensive, it's a good choice if you're worried about ever having to pay for super-expensive surgery or treatment that would otherwise break the bank.
Reimbursement and Deductibles
Deductibles range between $100, $250, and $500 annual deductibles. Reimbursements range between 70%, 80%, and 90%. As an example, if you have a $250 deductible and 80% reimbursement, and you're billed for $1,000 in a particular year, you'd get back 80% of $750, or $600. You'd pay the remaining $400 out of your own pocket.
Claims and Service
Submitting claims is quick and easy with Prudent Pet's fast AI claims technology. The innovative Artificial Intelligence allows for the quickest reimbursement for all claims. Prudent Pet lets policyholders download a claims form from their online policy portal which they can attach to vet receipts and send in by email, mail, fax, or directly through the online policy portal. Prudent Pet reimburses customers via check or direct deposit. Customers may also call or email customer support for updates.
We Suggest Adding on Wellness Care Coverage
For a small additional fee, you can choose from 3 levels (low, medium, and high) of wellness care for your pet. The basic wellness care coverage is worth noting, offering dental cleaning, wellness exam, deworming, health certificate, flea and heartworm prevention, and additional benefits, for just $10/month.
What Prudent Pet Could Do Better
Prudent Pet's costs are competitive for younger dogs, but they progress for older pets. More affordable options for senior pets could provide additional customer loyalty.
How Prudent Pet Compares
Here's how Prudent Pet stacks up against their top competitors. Consider the waiting periods, deductibles and maximum coverage amounts when you choose the company for your pet.
| | Illness waiting period | Deductibles |
| --- | --- | --- |
| Prudent Pet | 14 days | $100 to $500 |
| Pets Best | 14 days | $50 to $1,000 |
| ASPCA | 30 days | $100 to $500 |
| Embrace | 14 days | $200 to $1,000 |
Contact Details and Address
Prudent Pet Insurance offers friendly customer service by live online chat, a toll-free phone number, email, and connecting on their Facebook page.
5101 Darmstadt Rd
Hillside IL
60162
Pet insurance products are produced and administered by Prudent Pet Insurance Agency, LLC (NPN #18778951). Plans are underwritten by Markel Insurance Company and Markel American Insurance Company.