What Does it Cover
Figo covers accidents, illnesses, and emergency treatments for cats and dogs aged at least eight weeks old. It also covers surgeries, dental illness and injury, cancer treatment, chronic conditions, and hereditary disorders. Holistic and alternative treatments are covered, but behavioral therapy is not.
Pre-existing conditions are not normally covered by Figo. However, some curable pre-existing conditions may be covered if your pet has not experienced symptoms for 12 months since their last treatment.
Figo's coverage allows you to visit any licensed veterinarian worldwide, including specialists or emergency clinics. All policies include 24/7 live chat and video access to veterinary professionals through the Figo mobile app.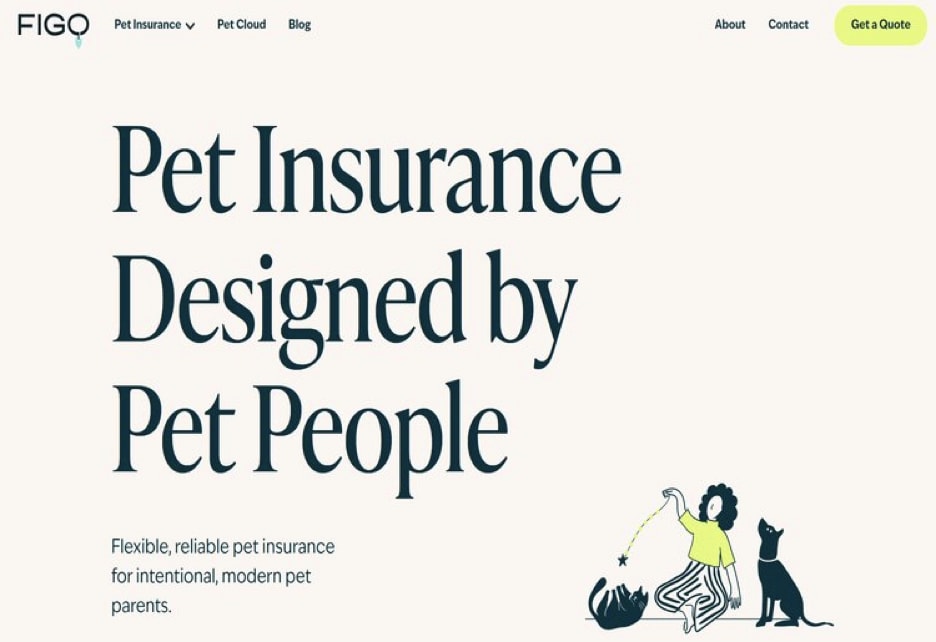 Insurance Plans & Pricing
Figo offers a single insurance plan for dogs and cats, but you can customize your policy according to your pet's needs.
We got a quote in August 2022 for a three-year-old Border Collie in Texas. A policy with a $100 deductible, a 70% reimbursement rate, and a $10,000 annual coverage limit was quoted at $23.51 per month. A $500 deductible, an 80% reimbursement rate, and a $10,000 coverage limit policy for that same pet was quoted at $18.60 per month.
We also requested a quote for a two-year-old American Shorthair cat. A policy with a $250 deductible, an 80% reimbursement rate, and a $10,000 annual coverage limit was quoted at $15.23. A policy with a $100 deductible, a 90% reimbursement rate, and a $5,000 annual coverage limit was quoted at $21.18.
Keep in mind that quotes are subject to change and will differ based on location as well as your pet's age and breed.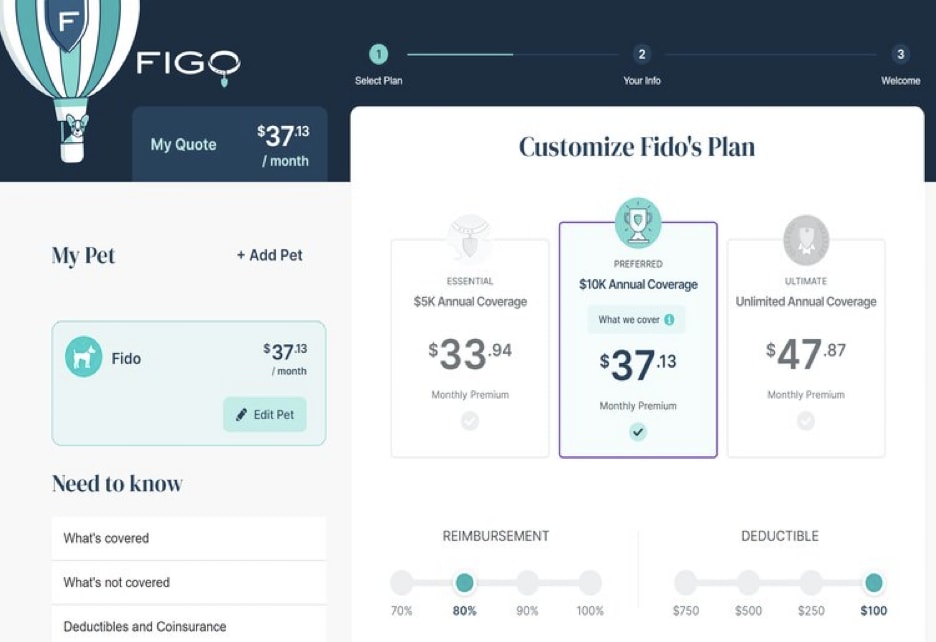 Figo also offers several optional add-ons, which they call Powerups. The Wellness Powerup comes with no waiting period, and includes coverage for vaccinations, spaying and neutering, bloodwork, dental, and heartworm medication. For the Border Collie above, wellness coverage was quoted at $9.50 per month for up to $135 in annual coverage or $16.50 per month for up to $250 in annual coverage.
The Veterinary Exam Fees add-on offers reimbursement for exam fees related to covered accidents and illnesses. Finally, the Extra Care Pack offers coverage for burial or cremation, a lost pet reward, vacation cancellation, boarding fees, and third-party liability.
What is Not Covered
Figo does not cover procedures related to breeding or pregnancy. Plans also do not cover behavioral therapies or most pre-existing conditions.
Waiting Periods
Figo has a one-day waiting period for accident coverage and a 14-day waiting period for illness coverage. For dogs, there is also a six-month waiting period for orthopedic coverage. This waiting period may be waived if your dog completes an orthopedic exam within the first 30 days of your policy.
Coverage Limits
Figo lets you choose between $5,000, $10,000, or unlimited annual coverage.
Reimbursement and deductibles:
Figo offers reimbursement levels of 70%, 80%, 90%, or 100%. You can choose an annual deductible of $100, $250, $500, or $1,000. You must reach your annual deductible before your plan will pay out.
Here's a breakdown of costs for several pet and coverage combinations. Quotes were obtained in August 2022 for pets in the state of Texas.
| | | | | |
| --- | --- | --- | --- | --- |
| Pet | Annual Coverage Limit | Reimbursement Rate | Deductible | Monthly Premium |
| Three-year-old Border Collie | $10,000 | 70% | $250 | $18.60 |
| Five-year-old Australian Shepherd | $10,000 | 80% | $100 | $37.13 |
| Two-year-old American Shorthair | $10,000 | 80% | $100 | $18.70 |
| Six-year-old American Longhair | $5,000 | 70% | $750 | $8.80 |
Claims and Service
Figo does not pay your vet directly, so you must pay upfront and then submit a claim for reimbursement. You can submit a claim for a covered procedure online or through the Figo mobile app. You just need to submit your bill along with the Figo claims form. Submitting a claim is very straightforward and only takes a few minutes.
Claims support is available from 8am-5:30pm (CT) Monday-Friday by phone, email, and text message. Figo resolves most claims within three days and sends payment directly to your bank account.
What You Might Like
24/7 video access to veterinary professionals via app
Orthopedic waiting period can be waived
Customizable quotes
Simple and fast claims process
No upper age limit for enrolling pets
What Figo Could do Better
Doesn't cover behavioral therapies
Wellness add-on is pricey
Doesn't pay vets directly on your behalf
Contact Details and Address
Phone (call or text): 844-738-3446 (Operating hours (all CT): Monday-Friday 7am-7pm, Saturday 8am-6pm, and text support only on Sunday 11am-3pm)
Email: support@figopetinsurance.com
Address: Figo Pet Insurance, 540 N Dearborn, Chicago, Illinois, 60654
Bottom Line
Figo is an online pet insurance provider that offers comprehensive plans for cats and dogs. You can easily customize your coverage to suit your pet's needs and your budget. All plans include 24/7 access to veterinary professionals and add-ons are available to cover costs related to wellness and exam fees. It's simple to file a claim online or through the Figo mobile app and most claims are paid in three days.
Methodology
This review is based on information on Figo's website and quotes obtained using Figo's online quote tool.