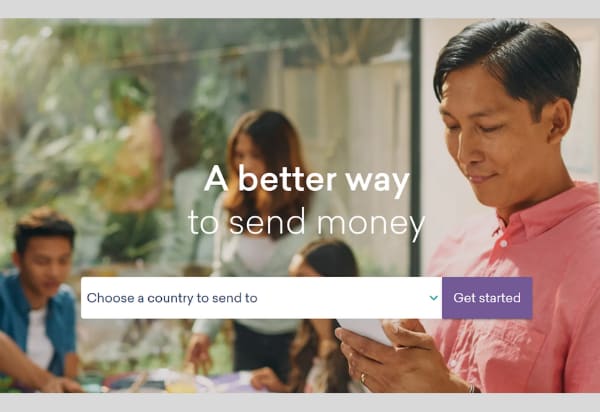 How Much Does WorldRemit Cost? Fees and Rates
WorldRemit's fee structure varies based on both what countries you're sending money to and from as well as how much money you're sending and by what method.
To start, every transaction comes with a flat fee. This can range from $1.99 to $4.99 depending on what countries you're sending money between and whether you're sending a bank transfer, mobile transfer, airtime top-up, or cash pickup. For example, sending money from the US to India via bank transfer costs $1.99, but a cash pickup in the Philippines costs $2.99.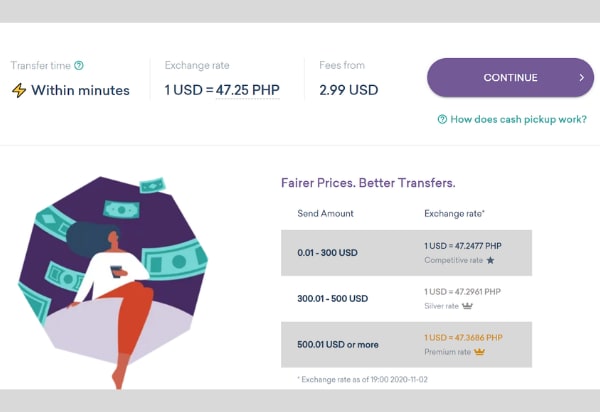 On top of the flat fee, you also pay anywhere from 1.5% to 3% of your transfer amount in exchange rate fees. WorldRemit has three different exchange rate tiers for most currency pairs depending on how much money you're transferring. So, you'll pay about 3% if you send under $100 to India from the US, around 2% if you send between $100 and $500, and approximately 1.5% if you send more than $500.
WorldRemit is upfront about how much your transfer will cost. You can get a quote for free without registering an account.
How Does It Work?
WorldRemit's service is straightforward to use. Get a free quote for your transfer by entering the country you'd like to send money to, what transfer method you want to use, and how much you plan to send. If the quote is acceptable, sign up for an account. You can fund your transfer by debit or credit card, bank transfer, Apple Pay, Klarna, or another e-wallet. Then just enter the recipient's bank details or preferred pick up location for the transfer.
Most WorldRemit transfers are completed within minutes. You can track your transfer status through your online account, and if you provide your recipient's phone number, they'll receive tracking information as well.
WorldRemit also has a mobile app for iOS and Android, which you can use to send payments or track transfers. The app also includes WorldRemit wallet, an e-wallet that offers low- or no-fee mobile transfers.
How Long Does It Take?
One of the main reasons to use WorldRemit for your money transfers is that it's fast. Over 90% of transfers are completed within the same business day that they're initiated. For cash pickups, mobile transfers, and airtime top-ups, funds are available to your recipient within minutes.
WorldRemit Top Highlights
WorldRemit is a widely used platform for transferring money around the world, and for good reason. WorldRemit's features include:
Send funds in 70 currencies to 130 countries.

90% of transfers are processed the same day.

Fund your transfers by credit or debit card, bank transfer, Apple Pay, Klarna, and more.

Send money by bank transfer, mobile transfer, airtime top-up, or cash pickup.

Track all of your payments and enable your recipient to do the same.

User-friendly mobile app with WorldRemit Wallet built-in.

Free, 24/7 customer support
Customer Support
WorldRemit offers 24/7 phone support by phone, live chat, and email. Chatting with a live agent requires getting past a chatbot, but this only takes a minute in most cases. Email responses typically arrive within two days. You can also find answers to the most common questions in WorldRemit's online knowledgebase.
Address: WorldRemit Corp, 600 17th Street, Suite 200S Denver, CO 80202
WorldRemit Visit Site
Privacy and Security
WorldRemit is headquartered in the UK and is regulated by the Financial Conduct Authority (the UK equivalent of the Financial Industry Regulatory Authority). The platform requires you to verify your identity before your first money transfer in order to comply with UK government regulations and prevent fraud. All information you upload to verify your identity is stored securely on WorldRemit's servers and never shared with third parties.
Recently, WorldRemit has taken additional steps to secure individual users' accounts. For example, the platform introduced multi-factor authentication to prevent unauthorized access to your WorldRemit wallet or online account.
Bottom Line
WorldRemit is a fast and reliable money transfer service. It's not always the cheapest option available, especially if you're sending small amounts of money via bank transfer or cash pickup. But the platform's speed and the fact that you can send money in several different ways is a huge asset. WorldRemit is also easy to use and comes with a mobile app so you can send or receive money on the go. Overall, this money transfer service is a great option for sending money around the world.
To compare more financial products and read more guides and reviews, visit BestMoney