Send summary
Send is an Australia-based money transfer provider, founded in 2019. They offer no-fee bank transfers in 38 currencies to 212 countries. The Send platform is easy to use, and they provide a unique customer loyalty program.
Pros
No transfer fees
Easy-to-use platform
Send Visa card and loyalty program
Cons
Newly established
Doesn't provide 24/7 live support
No mobile app
Transfer time
Within 2 working days
3.0
Customer service
Help from an agent over the phone or through live chat available
4.0
Security
Regulated and encrypted secure transfers
4.0
Online and mobile experience
Basic site
2.0
Send Fees and Rates
Send doesn't charge any fees for money transfers. However, other organizations that take part in the transfer process, like intermediary or beneficiary banks, may have surcharges for transactions or processing.
These third parties can charge for forwarding or receiving funds. Additionally, there may be fees generated if a payment fails. These charges vary depending on the policies of those third parties. Send can't usually predict the amount for any given transfer.
Send doesn't have control over third party fees and can't absorb them. As a result, they pass them onto the customer. Clients who need to guarantee that a specific amount arrives in the foreign currency will want to consider this when sending funds.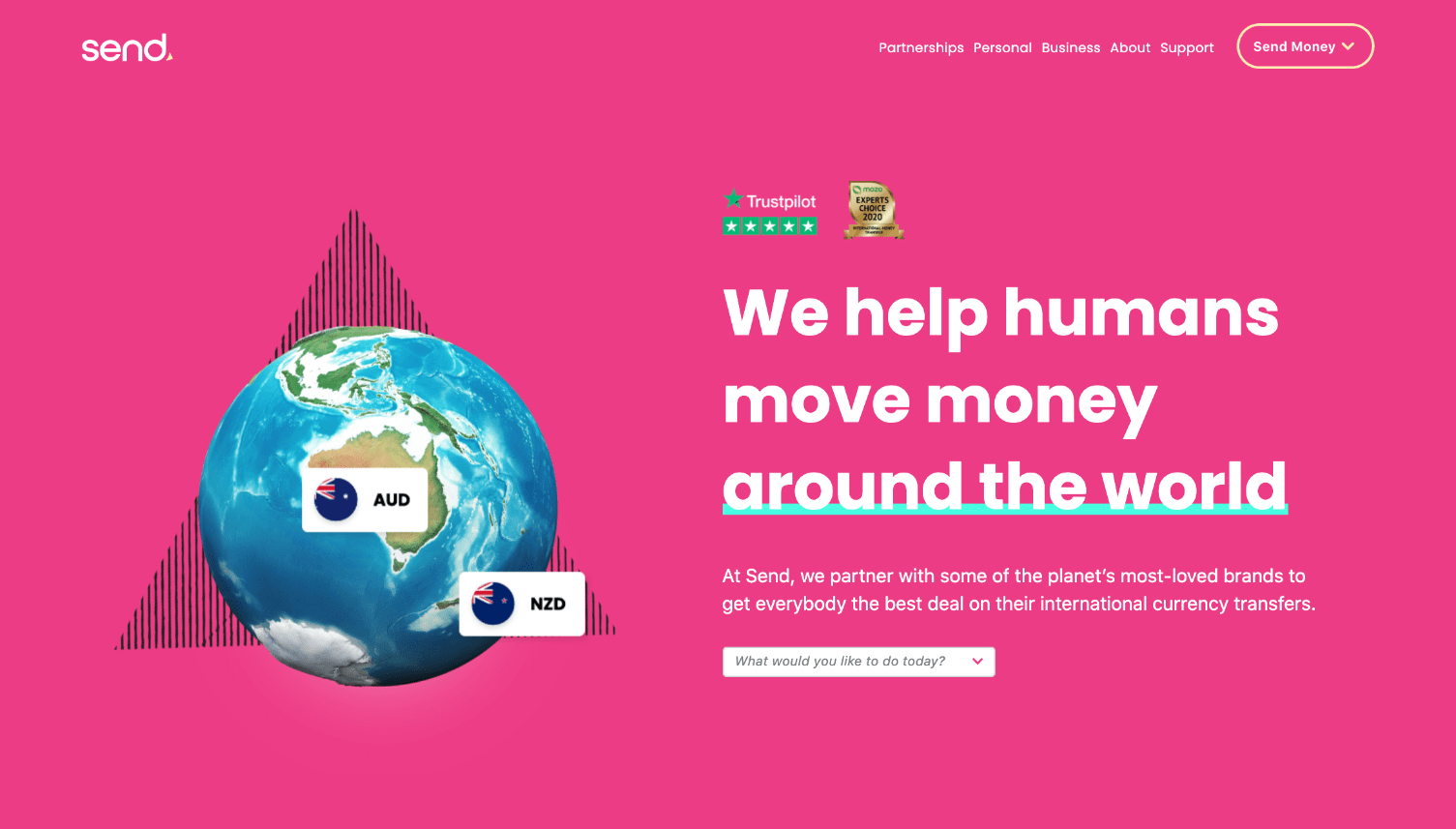 How Does It Work?
Signing up with Send is straightforward:
Enter your email and create a password.
Receive a confirmation email with a code allowing you to access the system.
Input the code on the Send page, and your first login is complete.
Once you're inside the Send platform, you can generate as many transfer quotes as you like. The exchange rates are available in the form of a currency exchange calculator.
If you decide to use the service, you'll need to input your personal or business information. Send will also request details from your passport or driver's license. You may need to provide other information or documents to meet specific legal requirements.
Send only works with bank account transfers, so, you'll need to provide bank account details during the registration process. The account you use to send funds must be in your name.
After inputting your information, you can proceed with your first transaction, choosing the recipient and the transfer amount. The minimum is $200, and there's no upper limit. You can see the status of all your transactions on the Send portal.