When you're picking a dog breed, there are lots of factors to consider: size, energy levels, and habits, for example. But have you ever thought about how much it might cost to insure your new pet? Factoring in which dog breeds are the most and least expensive to insure could help narrow down which type you want.
Why Insuring Your Dog Is Essential
The pandemic saw a rise in dog adoption. The 2021-2022 APPA National Pet Owners Survey found that 69 million households in the U.S. own dogs.
Although more people are adopting, new dog owners may not be fully aware of the health-related expenses of caring for a dog. If your dog needs a serious procedure, your bill could spiral into the thousands. The Ohio State University Veterinary Medical Center gives the cost of hip replacement, for example, to be from $5,600 to $6,000. And Cornell University College of Veterinary Medicine reports the cost of radiotherapy to be up to $7,000.
Therefore, it's very sensible to get insurance for your dog to cover most of the cost you'll incur if they become ill or have an accident. Sometimes, you can also add alternative therapies, like physiotherapy or hydrotherapy to your plan. Some insurance plans will cover medications and even prescribed diets.
How Does Pet Insurance Work?
When purchasing insurance for your dog, you have a few options, according to the National Association of Insurance Commissioners (NAIC). Most plans will cover both accidents and illnesses (although bear in mind there is usually a waiting period until your pet is covered). You may also get an accident-only policy, which runs cheaper. Many insurers will offer add-ons, like wellness or preventative treatment plans.
Common conditions and treatments covered by pet insurance accident and illness plans include broken bones, torn ligaments, unexpected illnesses like viral infections or cancer, diagnostic tests, and emergency exams. Pet insurance usually doesn't cover pre-existing conditions. However, some plans may include congenital issues that arise during coverage, which is worth bearing in mind if you select a breed with well-known problems, like pugs.
When you purchase a pet insurance plan, you will usually select a cover limit, the maximum amount you could claim in a year, as well as, a deductible amount, which you must pay before you are reimbursed, and a reimbursement percentage, a percentage of the vet's bill you get repaid.
Some insurers pay your vet directly, or you may need to pay the vet yourself and reclaim the money. Your claims process depends on your insurer, but you may need to provide some paperwork to prove what treatments have taken place.
What Influences the Cost of Insuring a Dog?
When you get a quote from a pet insurer, you will be asked to input information about your pet. This can include:
Pedigree or mixed breed status

Breed if known

Age

Location

Size or weight
In general, if your dog has any predisposed conditions, the premiums will be higher. For example, if your dog is particularly big, it may be more likely to develop certain problems like joint dysplasia, bloat, or heart disease.
Purebred (pedigree) dogs can also be more prone to illness because of their genetics. They are bred within a limited pool to concentrate certain features, like face shape, coat color, or temperament, and they can easily inherit genetic diseases. In some cases, the features they are bred for cause serious issues, like difficulty breathing or skin problems.
Of course, older pets are usually more expensive to insure because they are more likely to develop health problems. Certain locations can be more expensive, too. For example, a rural environment is generally considered less risky than an urban one, due to a reduced danger from traffic.
Selecting a higher coverage limit and reimbursement will increase your monthly premium cost, but selecting a higher deductible will decrease it. This can help keep the cost of your pet insurance within your budget.
What Is the Cost of Insuring Different Dog Breeds?
Many pedigree breeds are popular in the US. In 2021, Labrador Retrievers topped the list, followed by French Bulldogs, Golden Retrievers, German Shepherds, and Poodles. Given the wide variety of dog types available, which ones would be the most and least expensive to insure?
To answer this question, we compared accident and illness insurance quotes for the 15 most popular pedigree dog breeds from five popular pet insurers in the US. I used a standard location (California), sex (male), and age of the pet (six years) to ensure some consistency. I also set the reimbursement at 80%, then selected a coverage limit ($5,000) and deductible ($500). Remember that quoted prices (as of November 2022) may vary depending on your pet's details and the plan you select.
The most and least expensive dog breeds to insure
| Breed | Average monthly premium |
| --- | --- |
| Labrador Retriever | $70.73 |
| French Bulldog | $98.28 |
| Golden Retriever | $72.84 |
| German Shepherd | $70.60 |
| Poodle | $65.93 |
| Bulldog | $96.37 |
| Beagle | $61.83 |
| Rottweiler | $121.34 |
| Pointer | $55.38 |
| Dachshund | $47.52 |
| Pembroke Welsh Corgi | $61 |
| Australian Shepherd | $49.78 |
| Yorkshire Terrier | $43.07 |
| Boxer | $92.22 |
| Cavalier King Charles Spaniel | $58.22 |
In order of expense:
| Breed | Average monthly premium |
| --- | --- |
| Rottweiler | $121.34 |
| French Bulldog | $98.28 |
| Bulldog | $96.37 |
| Boxer | $92.22 |
| Golden Retriever | $72.84 |
| Labrador Retriever | $70.73 |
| German Shepherd | $70.60 |
| Poodle | $65.93 |
| Beagle | $61.83 |
| Pembroke Welsh Corgi | $61 |
| Cavalier King Charles Spaniel | $58.22 |
| Pointer | $55.38 |
| Australian Shepherd | $49.78 |
| Dachshund | $47.52 |
| Yorkshire Terrier | $43.07 |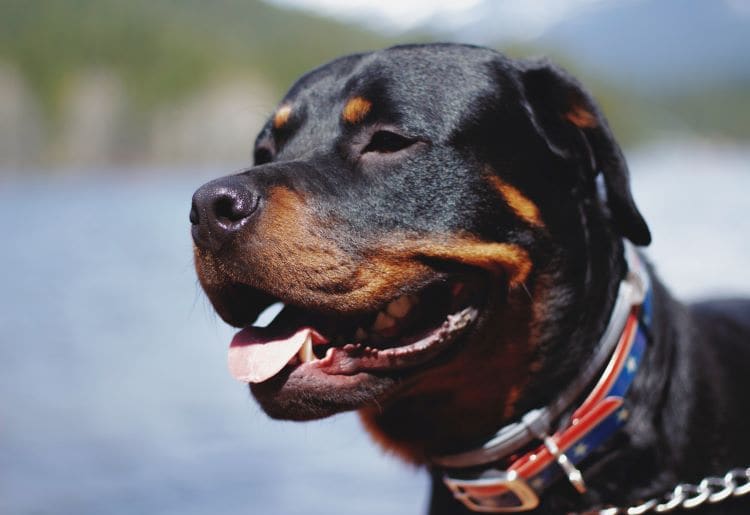 Photo by Joel Moysuh on Unsplash
Why Are Some Dog Breeds More Expensive to Insure?
You might be surprised to see Rottweilers topping the list of the most expensive breeds to insure. Due to their large size and hyperactivity, which can lead to easy injury or accident, they cost more to insure. Additionally, they are prone to some genetic problems like hip dysplasia.
Other large dog breeds can suffer from similar problems, so they also fall into the more expensive category. This includes Labradors, Retrievers, German Shepherds, and Australian Shepherds, among others.
French bulldogs and bulldogs are also more expensive to insure, even though they're smaller. They are also prone to hip dysplasia because of their body shape, and their compressed heads can lead to breathing issues. They also have more frequent allergic and autoimmune problems due to inbreeding. This may also apply to smaller dogs like Dachshunds and Poodles, who can commonly develop congenital diseases.
If you're keen on getting a larger breed, or one with common congenital issues, it's important to bear in mind the potential extra cost of insurance. But this doesn't mean these breeds are off-limits! With the right insurer, you can find comprehensive coverage that won't break the bank.
Conclusion
When considering getting a dog, it's important to factor in the insurance cost. Pet insurance is a must-have to avoid the potentially huge costs of treating your dog if they fall unwell or have an accident. Some breeds cost more than others, especially if they are more prone to health problems. If you want a breed on the more expensive end of the scale, make sure you choose your insurer carefully to find a plan that suits your budget and covers the treatments they may need.