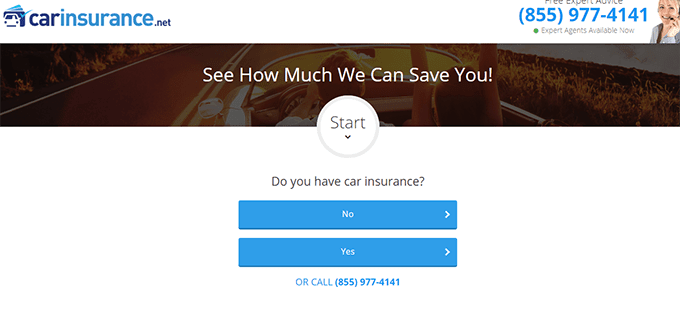 Pros and Cons
Pro: The main reason to use CarInsurance.net is that it compares top insurance providers in a fraction of the time it would take you to do it yourself. When you use CarInsurance.net, you get to tap into the power of its free search tool to instantly compare and qualify for policies from multiple insurers with just one online form. Whether you're looking to purchase the minimum liability insurance required by state law or to get add-ons such as rental coverage and roadside assistance, CarInsurance.net can help match you with the best policy and insurer for your needs.
Con: The downside to this service is that it doesn't offer much else aside form the search tool. Some rival online insurance marketplaces offer great tools and resources to help users make a decision, but CarInsurance.net offers a search tool – and only a search tool. As we've mentioned, the search engine is great if all you're looking to do is quickly compare car vehicle coverage. But if you're looking for added assistance, you may not find it on the CarInsurance.net website.
While this isn't necessarily a bad thing, the other thing we should emphasize is that CarInsurance.net is not a direct insurer. It is what's known as an insurance marketplace, which is like an agent or broker that matches you with the best deal. The service is great for comparing policies, but we want readers to be aware that the policy itself is provided by one of CarInsurance.net's partners and not by CarInsurance.net itself.
Types of Auto Insurance
Drivers can find almost any type of coverage with CarInsurance.net. Following are the standard types of coverage, with explanations.
• Bodily Injury Liability. Coverage for all expenses related to bodily injuries suffered by other drivers when you are at fault.
• Property Damage Liability. Coverage for all expenses related to damage of another person's property when you are at fault.
• Collision. Pays for repairs to your vehicle if it is damaged in a collision, regardless of who's at fault.
• Comprehensive. Pays for repairs to your vehicle if it is damaged in a non-collision incident, such as fire, flood, vandalism, or theft.
• Medical Payments (known as personal injury protection in some states). Compulsory in some states and voluntary in others, this covers hospital bills, rehabilitation expenses, and in some cases lost wages for you and/or your passengers, regardless of what at fault.
• Uninsured and Underinsured Motorist. Covers all liabilities if you are involved in an accident with an uninsured or underinsured motorist.
Additional Features
As mentioned, CarInsurance.net's powerful search tool can help hook drivers up with most of the common forms of vehicle coverage. Here are some of the main types of add-ons that can be found through CarInsurance.net's network of insurance providers.
• Roadside assistance. Covers all the things you might need when you get stuck on the highway, such as tire replacement, battery jump-start, fuel delivery, or locksmith services.
• Gap coverage. This coverage pays for the difference between your vehicle's value after an accident and the remaining balance on your loan or lease.
• Rideshare coverage. Add-on for people who work for ride-transportation services like Uber or Lyft.
• Discounts and rewards. Most of CarInsurance.net's partnering insurers offer multiple opportunities to get discounts on car insurance, such as bundling of different types of insurance and good driver rewards.
How to Apply
It takes just 1-2 minutes to get a quote through CarInsurance.net and all you need to do is fill out the one form. Unlike some other insurance search tools, CarInsurance.net only asks for your most basic details and doesn't require the user to hand over too many sensitive details (although the insurance company it connects you with will ask for this information).
At the end of the form, it presents you with the best auto insurance policies and lets you choose how you would like to proceed. Like other insurance marketplaces, CarInsurance.net states that it reserves the right to share your contact details with its third-party insurance providers.
Here's what you'll need to provide in order to get a quote: Name, address, contact details, number of policy holders, number of vehicles, and declarations regarding any DUIs or SR-22 requirements.
Filing a Claim
As mentioned, CarInsurance.net is an insurance broker and not a direct underwriter of insurance policies. CarInsurance.net can help you find an insurer, and all claims must go directly through that insurer. Your relationship with CarInsurance.net ends the moment you purchase car insurance from one of its partnering providers (although users may return to CarInsurance.net as many times as they wish to compare insurers).
Contact Details
Although CarInsurance.net is primarily an online insurance brokerage service, it does provide phone and email support. Customer support staff are available to help drivers in all 50 states during regular West Coast business hours.
• Phone: (855) 977-4141
• Email: contact-us@carinsurance.net
• Address: 113 Cherry Street #88030, Seattle, WA 98104-2205
Summary
CarInsurance.net is a useful car insurance search tool that helps users compare and qualify for multiple insurers with one form. If you're looking to compare the auto insurance market, you could do worse than start with CarInsurance.net. It only takes a couple of minutes to check your options, it carries no obligations, and best of all it doesn't cost a dime.