Overview
Offering an array of financial assistance including credit card consolidation, home improvement loans, medical bill loans, student refinancing, and now private student loans, Earnest is a good place to turn if you need a little help with funding the various stages of life. Earnest has a great reputation, and that's a great way to kick off a lender-borrower relationship. A quick glance around the internet will yield positive results with glowing reviews from real users and an excellent 5-star rating from Trustpilot.
Here's a peek at Earnest's CEO featured on CNBC's Mad Money explaining a bit more about Earnest: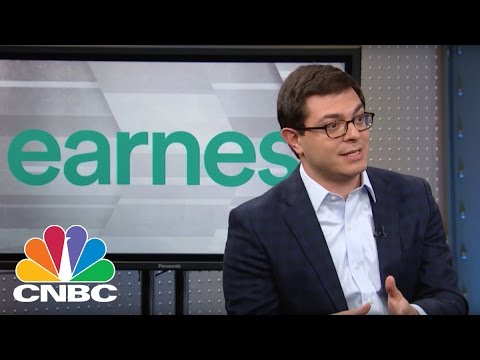 Suitable For?
Earnest benefits students who have exhausted their federal loan options and are looking for more financial assistance. The program particularly favors borrowers signing up with a co-signer as well.
Loan Features
Earnest is favored for its flexible personal loans and student refinancing programs, and from what we've seen, its private student loans are no different. You can get up to 100% of your cost of attendance covered by the loan, there's an auto-pay discount, and Earnest even has a 5-second pre-approval process. Here are some of the main features that Earnest boasts over the competition:
Earnest makes it simpler for students on a budget by cutting out some of the most common fees involved in student loans. You'll pay zero fees for origination, disbursement, and even late payments. Plus, you won't pay any prepayment penalties for repaying your debt off early.
Once a year, Earnest lets borrowers skip a monthly payment, assuming you're in good standing with your regular payments. This is incredibly generous and not something you'll find with other lenders.
This is Earnest's customer service (which we'll cover below), but how could you not love a brand that calls its customer support Client Happiness team?
The Application Process
Earnest offers a fast online application process and a pre-application checklist. Here's how it works:
You can quickly check your eligibility before you even get started. All you need to complete this form is your school of attendance and an approximate credit score ranking. This is quite simple compared to what some lenders require you to fill out.
To continue the process, you can fill out the easy online application form. This includes info on your finances and any information about your co-signer if you're using one.
Next, you'll receive approval along with loan offers. If you like what you see, you can choose your repayment terms, and complete the application process.
Then, recieve your money! Once your school verifies your given information, you'll be transferred the loan money shortly thereafter.
Earnest encourages students to sign up with a co-signer. In fact, Earnest even makes things easier for the ones co-signing the loan by offering a separate account for co-signers to track loan progress and fast service.
Eligibility Requirements
Earnest has pretty straightforward eligibility requirements. Here are the criteria you'll need to meet to get approved for a private student loan from this lender:
You must be a legal US citizen or permanent resident.
You must be attending or enrolled to attend full time at one of the participating Title IV institutions.
You must be currently living in Washington DC or one of the states where Earnest is permitted to distribute funds.
You must be of legal age within the state of residence.
You must have a credit score of 650 or higher.
Earnest is available in all states except the following:
| | |
| --- | --- |
| Arkansas | New Hampshire |
| Connecticut | Nevada |
| Delaware | Ohio |
| Illinois | Texas |
| Hawaii | Virginia |
| Kentucky | |
Loan Rates
Earnest interest rates are set based on your credit history, loan amount, and other factors. But Earnest is known for having low rates on all its financial aid products, so you can expect to get reasonable private student loan APRs as well. Signing up with a co-signer may entitle you to a lower interest rate, so bear that in mind when applying. If you sign up for autopay, you also get an automatic 0.25% discount. If you opt to apply for autopay, you can expect a meaningful discount, with rates as low as 5.32% - 16.20%.
Repayment Terms
Earnest offers students 4 different repayment plans to choose from:
Total deferment: This repayment plan allows you to push off all payments of your private student loan until after you've completed your schooling or until the end of your grace period. This option is not recommended since it means you'll end up paying the most. Total deferment is not available in all states.
Fixed payments: This option allows you to make a fixed monthly payment of $25 toward your loan while you are still in school. This will reduce the overall amount of your loan that needs to be repaid once you get out of school.
Interest-only payments: Interest-only repayment plans let you pay off just the accruing interest each month. This is another great way of staying ahead of your student loan, so you aren't left with massive debt when your schooling is completed.
Full repayment: Finally, Earnest offers students full principal and interest payments. This is a great option if you can afford it because it will reduce the overall cost of your loan (since you'll be paying off the loan faster, thereby accruing less interest over time).
As mentioned previously, you can also skip one payment annually.
How Safe is It?
All data shared and stored on the Earnest website is secured using industry-standard SSL technology. Some security measures in place include firewalls, multi-factor authentication, and private subnets. Plus, Earnest never sells any information.
Customer Service
Earnest has customer service that it calls the Client Happiness team. You can reach out to this friendly and helpful support staff via email or phone during normal business hours: Monday through Friday 8am to 5pm PT.
How Earnest Compares
| | Earnest | Laurel Road |
| --- | --- | --- |
| APR | 5.32% - 16.20% | 4.11% |
| Credit score | 650 | 650 |
| Loan amount | Up to 100% COA | $5,000-total COA |
| Accepts co-signers | Yes | Yes |
| Suitable for | Students with a cosigner | Students in eligible schools and degrees |
Summary
Earnest is a user-friendly, feature-rich option for private student loans. With a 9-month grace period, flexible repayment terms, and even an annual payment skip, you can get the most out of the student loans. Plus, Earnest has some of the friendliest customer service around, covers up to 100% of your cost of attendance, and encourages co-signers. Needless to say, Earnest private student loans come highly recommended.
Disclaimers
Interest Rate Disclosure
Actual rate and available repayment terms will vary based on your income. Fixed rates range from 4.70% APR to 15.25% APR (excludes 0.25% Auto Pay discount). Variable rates range from 5.57% APR to 16.67% APR (excludes 0.25% Auto Pay discount). Earnest variable interest rate student loan origination loans are based on a publicly available index, the 30-day Average Secured Overnight Financing Rate (SOFR) published by the Federal Reserve Bank of New York. The variable rate is based on the rate published on the 25th day, or the next business day, of the preceding calendar month, rounded to the nearest hundredth of a percent. The rate will not increase more than once per month. Although the rate will vary after you are approved, it will never exceed 36% (the maximum allowable for this loan). Please note, Earnest Private Student Loans are not available in Nevada. Our lowest rates are only available for our most credit qualified borrowers and contain our .25% auto pay discount from a checking or savings account. It is important to note that the 0.25% Auto Pay discount is not available while loan payments are deferred.
THIS IS AN ADVERTISEMENT. YOU ARE NOT REQUIRED TO MAKE ANY PAYMENT OR TAKE ANY OTHER ACTION IN RESPONSE TO THIS OFFER.