With age comes a host of challenges that are better solved sooner than later, and thankfully life insurance offers a calming solution.
Whether it comes from a health emergency, a milestone birthday or the birth of a new addition to the family, everyone, at some point, realizes that they won't live forever. If you haven't yet thought about life insurance or you want to upgrade your current coverage, it's easy to access a plan that caters for every potential circumstance. With host of top life insurance providers around on the market, you can choose a variety of policies that suit your age, health status, family dependence and other factors.
What to Consider
There are many factors to consider when applying for insurance that's meant to provide lasting protection.
Current Financial Obligations
Life insurance is great at ensuring that long-term debt is not left to burden others if you pass away. Be sure to take out a policy that covers all the debts that might pass to the beneficiary, such as a mortgage, car payments, and credit card balances.
How many people in the family would be negatively impacted without the primary policyholder's salary? Each dependent comes with their own costs depending on age. For example, children might have to deal with increasing education costs. It's a good idea to add this factor into your calculations when determining the appropriate amount of coverage.
How Much to Leave as an Inheritance
Avoid or eliminate estate taxes by leaving heirs with a sizeable sum in the form of a death benefit, which is possible in varying degrees depending on which life insurance policy is chosen.
Policyholders will not be around to make funeral or burial payments. Even before passing, sometimes it is not possible to conveniently pay medical expenses or bills for nurses, home care and the like. There are many features available that automatically cover these final costs, paying directly out of the plan rather than putting the burden on busy or grieving family members.
The Top Policy Options for Seniors
Across all policies, the older an applicant is, the less options there are available. Life insurance terms are shorter and premiums more expensive the older a customer is, but there are still many options available for those who do not already have a plan.
Term Life: Term life insurance, which will not pay out should the policyholder die outside the term period, is great for specific purposes. Keep in mind that those individuals above age 55 will have a hard time accessing some term plans, but it is still quite possible for those in their twilight years to get terms of 5, 10 or even 20 years at a reasonable price. Ethos is a good example of an insurance provider that is a good fit for seniors. Term life insurance is adept at covering debts that might pass on to beneficiaries and their family. Some risks appear in the form of higher premiums, and the chance that the policyholder will outlive their policy and be unable to reap the death benefit. When exploring this possibility, it is wise to consider current age, health and genetic history as well. A fitting example of the debt-covering properties of term life insurance is a 20-year mortgage, which can be counterbalanced by a policy that lasts the same period, for the same total amount. If a person owes $300,000 on their mortgage, they can take out a term life policy that pays $300,000 should they pass away within the term. This way, their family or spouse is not saddled with the responsibility of a mortgage and no salary to pay it off.
Annual Renewable Term Life: For those uninterested in paying upfront for what the insurer believes their health may be like in 10 or more years, annual renewable term insurance is ideal. Policyholders can also avoid the risk that they will outlive their term policy, but will be exposed to renegotiated premiums every year. This is ideal for individuals who do not mind paying a bit extra over time for coverage that comes without worry, and who do not mind dealing with their plan's costs changing every year.
Long Term Care Insurance: Providers offer this form of policy to people who are concerned that there will not be willing family members around to care for them should they fall ill in their old age. Researching this option is not recommended until around age 45 or 50, as it can get expensive and is likely unnecessary earlier in life. Be sure to check that the chosen long-term care insurance covers all types of doctors, treatments, and plans of care because the industry is changing quickly.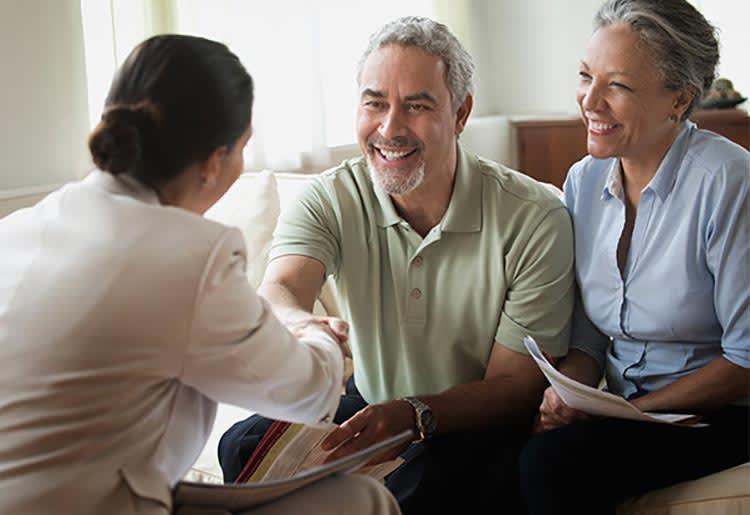 Guaranteed Universal Life: For a flat premium, customers can choose a specific term or coverage for their entire life with guaranteed universal life insurance. Due to no cash value accumulation, premiums are generally lower, and Great Life Insurance Group is one company that excels in this field. Those facing unique circumstances will enjoy the ability to have flexible plan coverage alongside the tax-deferred status of their death benefit and ability to cover final expenses. While guaranteed acceptance plans usually extend coverage in the low 5 figures, it represents a simple solution for people who are afraid that they've waited too long to get insured.
Which Policies to Avoid
Some policies are simply not suited to elderly applicants who do not already have them, usually because the benefits are not worth the higher premiums.
Whole Life: Whole life plans are appropriate for seniors with specific needs, such as the desire to leave an exact amount of money to an heir or philanthropic venture. The plan covers the policyholder for their entire life, and premiums and the death benefit are static. Because the ability to accrue and borrow against the cash value of a policy is not so useful for elderly customers considering the insurance company will deduct the amount outstanding from the death benefit, whole life insurance is mostly useful for avoiding taxes.
Universal Life Insurance: Universal life has the same downsides as whole life plans, when applied to a customer of advanced age. These policies grant the ability to actively invest the policy's cash value, which can be great for those with the time to reap the return on interest. However, people already in their advanced years will not appreciate the high management fees and premiums.
Finding Appropriate Riders
While there are a countless number of specific life insurance policies that can be adjusted to suit the needs of older customers, there are also riders, which act like clauses granting a policy extra powers in exchange for additional fees. Some of these are especially useful for those worrying about final expenses, medical care, funeral costs and how to provide their beneficiaries with money.
Long Term Care Rider: Sometimes called a living benefit rider or accelerated benefit rider, this useful tool enables the policyholder to cover medical expenses that they incur while alive. Especially applicable for people facing terminal illness and compensating live-in nurses or aides, it is important to note that the only stipulation for this policy is that costs are taken from the death benefit. This leaves less to beneficiaries, but frees them from paying these expenses out of their own pockets.
Critical Illness Rider: Critical illness riders are almost the same as accelerated care riders with one important exception, they do not require the policyholder to have a terminal illness to release payment for bills incurred. In other words, death does not have to be in the picture to receive a payout.
Return of Premiums Rider: This option is great for those who are thinking of how to give their beneficiaries the most possible, and who have a longer horizon ahead. It allows for premiums to be paid in excess of the monthly minimum before returning the amount in a lump sum (plus interest) to the beneficiary upon death.
Convertible Term Life Rider: Many term plans let the customer add a convertible rider, which enables them to convert to a whole life plan mid-term with no medical checkup required. This is a favorable tool for those who are reaching the end of their term and do not want the money paid in premiums to go to waste. For those applying for term policies in their advanced age, it also eliminates the guesswork that one must do in determining their own timeline.
Waiver of Premiums Rider: Useful for avoiding costs if you become disabled, this option is usually not available to those of very advanced age. However, customers between the ages of 40 and 60 who are considering the impact on their family should they become disabled and unable to bring in a paycheck will realize a distinct advantage.
Bottom Line
The way life insurance policies are set up means that younger policyholders are more likely to be able to take advantage of accrual of cash value, lower premiums, a more flexible timeline and other factors. However, there are other tools available that can help older policyholders as well, even for those who neglected to get coverage until it was "too late."
With plans aimed specifically at seniors and their unique needs plus the opportunity for younger applicants to prepare for old age inexpensively, it is now almost never too late to access life insurance. For seniors looking for the most suitable solution, consider closely how many dependents there are, health complications that may occur and any other relevant factors before choosing the right life insurance provider with the right mix of coverage.