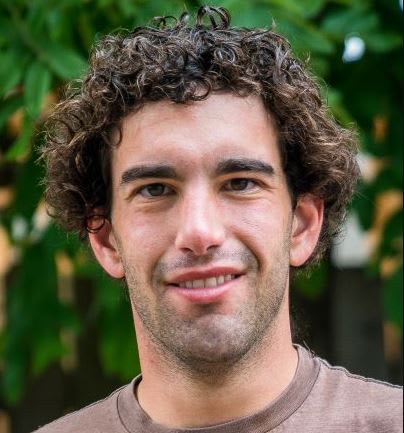 Kabbage summary
Kabbage is a financial technology company built for small businesses. The Kabbage checking account comes with no monthly fees and no balance requirements. You'll also earn 1.10% APY interest on balances up to $100,000. Kabbage includes access to thousands of fee-free ATMs and lets you deposit cash at retailers like CVS and Walgreens. Plus, you can manage your business's finances with Kabbage's integrated analysis and payments tools.
Pros
Earn interest of 1.10% APY
Deposit cash at 90,000 retail locations
Manage your cash with up to 5 Reserve subaccounts
Cons
No integration with accounting software
Fee of up to $4.95 for cash deposits
Kabbage Visit Kabbage
Advantages Over Traditional Banks
Kabbage is a financial services company that's dedicated to helping small businesses succeed. The platform charges no monthly fees for its checking account and doesn't require you to keep a minimum balance. While Kabbage doesn't have physical locations, you can easily deposit checks using the mobile app or deposit cash fee-free at any in-network ATM. Kabbage has also partnered with retailers like CVS, Walgreens, Rite-Aid, and Walmart so that you can deposit cash at any of more than 90,000 retail locations across the US.
Cutting-Edge Banking Services
Kabbage offers several tools specifically designed for small businesses. First, you can integrate your business checking account with Kabbage's other small business products, including Kabbage Insights and Kabbage Payments. Insights lets you analyze cash flow, develop revenue forecasts, and build customized alerts for your checking account. Payments enables you to create and send invoices and accept online payments that go straight to your checking account.
Another helpful feature that Kabbage offers is Reserves. You can create up to 5 Reserves, which are essentially sub-accounts, inside your business checking account. Each Reserve can be earmarked for a specific saving goal or to cover big expenses like payroll. You can instantly move money in your account between Reserves at any time.
Traditional Banking Services
Kabbage doesn't offer physical banks or ATMs, although you can access thousands of in-network ATMs with no fees. Your account also includes a Mastercard debit card, which you can link to digital payment apps like Apple Pay and Google Pay.
Interest Rates and Fees
The Kabbage business checking account doesn't charge a setup fee or monthly account fees and there's no minimum balance requirement. You can access any in-network ATM for free, but there is a fee of up to $4.95 if you deposit cash with a retailer like CVS or Walgreens. Kabbage also charges a foreign transaction fee of 3%.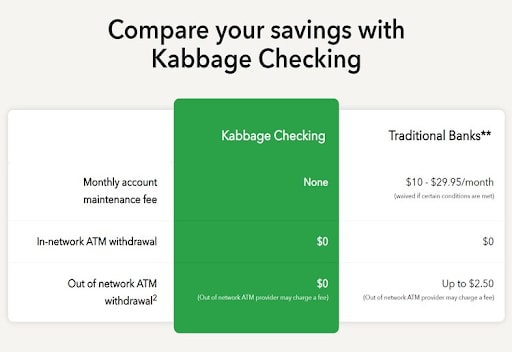 The Kabbage checking account offers interest of 1.10% APY on balances up to $100,000.
| Account Opening Fee | Monthly Account Fee | ATM Fee | Cash Deposit Fee | Foreign Transaction Fee | Interest Rate |
| --- | --- | --- | --- | --- | --- |
| $0 | $0 | $0 | Up to $4.95 (varies by retailer) | 3% | 1.10% APY on balances up to $100,000 |
Customer Service and Online Experience
Kabbage offers an online dashboard where you can manage your checking account as well as access the Insights and Payments tools. You can easily send money or set up account alerts. However, Kabbage doesn't integrate with third-party accounting software like Quickbooks or Xero.
Kabbage's customer support team is available by phone and email from 8AM–9PM (ET) Monday–Friday. We got in touch by phone and were connected to a representative immediately.
Special Promotions
New accounts can earn a cash deposit of $300 after applying
Earn a $300 cash deposit into your Kabbage Checking account after you complete a total of 5 debit card purchases within 45 days of account opening. (You must apply and be approved by 12/15/2021. Terms apply.1)
Mobile App
Kabbage offers a free mobile app for iOS and Android devices. It enables you to monitor your account, send money, and scan checks for deposits. On top of that, you can set up and move money between Reserves or access a mobile version of Kabbage Insights. The mobile app also includes a map tool so you can find in-network ATMs or retail locations for cash deposit near you.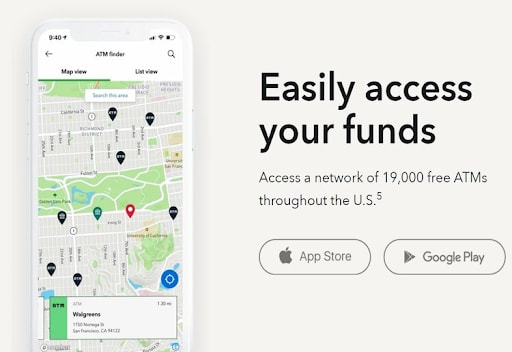 Security
Kabbage protects your account against unauthorized access with encryption and 2-factor authentication. You can also set up transaction alerts through the Kabbage mobile app to find out about transactions as soon as they happen. There is no biometric login, however. The Kabbage debit card is backed by Mastercard's fraud protection service, although Kabbage itself does not have a dedicated fraud team.
Summary
Kabbage is an online financial services company that caters to small business owners. The Kabbage checking account offers no monthly fees, no minimum balance requirements, and interest of 1.10% APY on balances up to $100,000. Kabbage stands out for integrating its checking account with tools like Insights and Payments, which help you manage your business's finances and bring in revenue. In addition, you can access thousands of in-network ATMs for free or even make cash deposits at over 90,000 retail locations. Overall, Kabbage can be a good option for small businesses in search of a fee-free checking account that earns interest.
Methodology
This review was created using information from the Kabbage website, a Nerdwallet review of Kabbage, and a call with the customer service team.
Kabbage Visit Kabbage
Terms and Conditions:
This promotion is being offered by American Express Kabbage Inc. ("we", "us" or "our"). The Kabbage Checking account is provided by Green Dot Bank. Green Dot Bank will deposit a $300 cash deposit into your Kabbage Checking account subject to the terms of this offer as stated below. To be eligible to earn the $300 cash deposit, you must 1) apply and be approved for a Kabbage Checking account opened between October 1, 2021 and December 15, 2021 at 11:59 p.m. ET, and 2) successfully complete 5 debit and/or virtual card purchases within 45 calendar days of the opening of your Kabbage Checking account. Only transactions that clear within 45 calendar days of Kabbage Checking account opening will qualify. Transactions that do not clear within this 45-day period will not qualify. To receive the $300 cash deposit from Green Dot Bank, your Kabbage Checking account must be open and in good standing at the time of fulfillment. Once you have completed all the above eligibility requirements, the $300 cash deposit will be deposited into your Kabbage Checking account between 45 to 90 calendar days from the date your Kabbage Checking account was opened. Limit one offer per new Kabbage Checking account. This offer (i) is not available to existing Kabbage Checking customers, (ii) is non- transferable, and (iii) cannot be combined with any other offer. If we determine in our sole discretion that you have engaged in abuse, misuse, fraudulent activity, or gaming in connection with the offer in any way or that you intend to do so, you may not receive the $300 cash deposit. We may also cancel this Kabbage Checking account and other accounts you may have with us. The $300 cash deposit may be taxable income to you and may be reported on IRS Form 1099. You are responsible for any federal or state taxes resulting from the $300 cash deposit. Please consult your tax advisor if you have questions about the tax treatment of the $300 cash deposit. We reserve the right to modify or revoke this offer at any time. If you have any questions regarding this offer, please call 888-986-8263.